A Grand Entry to Venice
---
The anticipation built as we approached Venice from Mestre along the narrow causeway. Entering magical Venice by car through the depressingly ugly square, Piazzale Roma, with its hulking parking garage and lines of buses, seems an unfair, cruel introduction to a glittering city. How can this be the gateway to ethereal Venice? But here we are, a family of eight in two rental cars, among the motorists who are naïve enough to endure the long lines at the Piazzale Roma garage.
Having been advised by good friends about the Venice parking challenge, I thought I understood the system. I proceeded to guide my rental car and my sister-in-law's car behind me to the toll both of the main garage. Upon approaching, I took the parking ticket, and in my best Italian, told the booth attendant that we had two cars and we wished to park near each other. He forwarded me on to the garage attendant, who was the one in charge of our destiny. As I pulled forward and addressed the attendant, I could tell that he had already started to negotiate with me. First, he told me that there were no spaces for any cars. But we had just taken the entry ticket!
Remembering the advice of our friends, I flashed a few thousand lire (this was during the B.E. period, Before Euro). He paused and then waved me on to the left. I did not move. I said that we also had a second car right behind me with more family members including Il Bambina (my then two-year-old niece). He smiled, paused, smiled again, paused, and it was then that I realized that a few additional lire were necessary. After palming his hand with more lire, he walked with our cars to two parking spaces in the far corner of the garage that were now empty due to the absence of the owners who were on holiday. I pulled in and my-sister-in-law pulled in next to me. Voilá! We had technically arrived in Venice. Well, almost.
Our family ranged in age from two to eighty-two and we scurried off to catch the next vaporetto (water bus) to our much anticipated destination, the Piazza San Marco. Towing luggage, we approached the queue for the next vaporetto and were informed by the dock personnel that the next boat to Piazza San Marco was now at the boarding dock to the left. En masse, we moved toward the incoming water bus, each of us scurrying along with our luggage. My father-in-law, Rus, being the gentleman that he is, was carrying his tote bag and that of my mother-in-law. On rusty replaced knees, he was shuffling along the best his eighty-year old legs and three-year old knees would take him.
As we boarded the vaporetto, Rus was directly behind us and about ready to step onto the boat when the young macho attendant suddenly closed the shin-high gate. The boat immediately pulled from the dock and Rus, loaded with luggage, nearly stepped into the brown murky water of the Grand Canal. My wife yelled, "Papa!" as the vaporetto motored its way down the canal to Piazza San Marco. We all looked at each other and wondered, "Would we ever see dear Papa again?"
Our attention was soon drawn to the Grand Canal and the great scene ahead of us. Boats and vaparetti were motoring every which way along the canal like cars on a street, except there were no lanes or stop signs. We had never experienced anything so captivating. The emotion, the thrill, and the wonder of entering Venice by boat was powerful. Here we were cruising in a vaporetto looking out onto streets that were flooded. Unreal. I glanced over at my Mom, mother-in-law, and wife and saw happy anticipation reflect on their faces as they gazed at the majesty of the Byzantine and Renaissance villas that flanked the Grand Canal. It was like a parade of architectural gems, except that we were the moving float.
Then I looked at my toddler niece, who was carefully cradled between her parents, and saw a special amazement in her eyes, as if she were entering Disneyland for the first time. I wondered what was going through her head, and all I could think of was awesome delight. She was nothing but beaming smiles and welcoming innocence. That is how you should enter Venice.
Upon our arrival at Piazza San Marco, we anxiously waited for the Papa, not knowing if he really knew at which stop to disembark. Many fretful minutes passed before we saw him arriving on the next boat, positioned at the helm, waving to us with a broad grin and filled with the same sense of joy that we had. Papa had arrived in Venice! We all then walked along the Calle Larga XXII Marzo to our quaint hotel a few blocks away, the Hotel Flora. Upon check-in, we immediately went to the nearest café for a beer to relax our feet, and our nerves.
Ready for your own Venetian adventure? Click here for all our journeys to Venice.
What's your favorite city? Please share.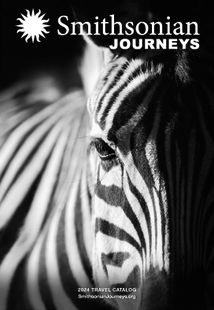 Request a Free Catalog
Download now to find inspiration for your next journey
Get It Free!
Be the First to Know
Sign up to learn more about our tours and special offers
Sign Up