The Smithsonian Tropical Research Institute
---
Between bats, birds, and coral reefs, the folks studying biodiversity at the Smithsonian Tropical Research Institute (STRI) in Panama stay pretty busy. In fact, if you're a college student, your chance to help them out with their research (and get college credit for it) comes in the summer of 2011. Here's a few more things to know about our friends at STRI.
1) They're using using radio telemetry  to track the routes and interactions of animals around – and across – the Panama Canal. They've also discovered that sloths aren't as lazy as we thought. Click to read more from Smithsonian Magazine.
2) They've set up an underwater reef webcam at the Galeta Marine Laboratory in Panama. Click to check out the action.
3) They study bats, lots of bats - in fact, there are 74 species of bats living on Panama's Barro Colorado Island, not far from STRI. Thanks to the Smithsonian Channel, you can meet the Smithsonian scientists who study them.
4) STRI  has a great interactive web site for kids, where they can learn (in English and Spanish) all about sharks.
There's plenty more where that came from. Click here for STRI's main page, here for more information on our college summer program, Exploring Panama: Biodiversity in the Tropics, and here for all of our travel opportunities in Panama. 
Where would you like to go next summer? Please share.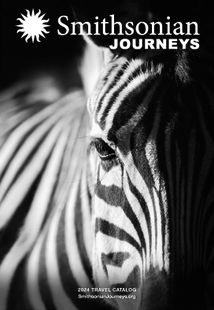 Request a Free Catalog
Download now to find inspiration for your next journey
Get It Free!
Be the First to Know
Sign up to learn more about our tours and special offers
Sign Up