Splendors of Morocco
---
What comes to mind when someone mentions Morocco? Bogart and Bacall? Colorful street markets? The Sahara Desert? Here's a few things you might not know about this fascinating area of the world.
1) Morocco's population of donkeys is key to its economy. Appalled by the condition of these animals, in 1927 a wealthy American woman donated money to found a free veterinary clinic that still operates in Fez today, which is called the American Fondouk.
2) People love to journey to Morocco for the food, a mix of European, Middle Eastern, native Berber, and other African cuisines. Pastilla, a meat pie encased in a phyllo-like dough, is a popular national dish. Click here to learn how to make your own.
3) Marrakech's Koutoubia Mosque is also home to the first book bazaar in world history. Almohad Caliph Yaqub Al-Mansur, a great lover of books, built the mosque during his reign between 1184 and 1199. The books and manuscripts the Caliph collected, from the bazaar at the mosque and from other sources, eventually became the collection for Morocco's first public library.
4) Morocco spends 20% of its national budget on education. Children aged 7 to 13 must attend school, and there are a variety of trade schools and public universities available for further education.
5) Morocco is world-famous for its intricately embroidered textiles. Click for an interactive online exhibition on Moroccan textiles from Smithsonian's National Museum of African Art.
Now is a great time to visit Morocco. Click here for more on travel to Morocco with Smithsonian.
What inspires you to travel? Please share.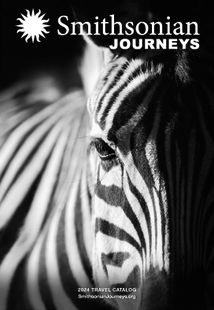 Request a Free Catalog
Download now to find inspiration for your next journey
Get It Free!
Be the First to Know
Sign up to learn more about our tours and special offers
Sign Up