Camel Trekking in the Thar Desert
---
In Rajasthan, northern India, the starkly beautiful Thar Desert is home to a way of life that few outsiders have experienced. The small but vibrant desert community that thrives there includes chili and mustard farmers,  ranchers, carpet weavers, metalsmiths, potters, and carpenters with a strong folk tradition of music and dance.
At more than 75,000 square miles, the Thar Desert is a huge expanse of sand and scrub, but hosts a suprising amount of biodiversity. Herds of Indian gazelles, Indian wild asses, and blackbucks make their homes there in large numbers. The Thar Desert is also home to more than 150 species of birds, as well as a variety of trees and other plants. Eleven national parks within the Desert help to protect these animals and plants.
The Thar Desert is also home to Jaisalmer Fort, built in 1156 by King Rawal Jaisal, at a site which Lord Krishna was said to favor. Carved from Rajasthani yellow sandstone, it almost disappears into the desert, which helped to keep the fort safe from invaders.
Click here for stunning photos of the area from Flickr, and here to read more about the opportunity that Smithsonian travelers have to go on a camel safari with local Thar Desert guides, followed by dinner and a night in a tented camp under the stars.
What do you love about the desert? Please share.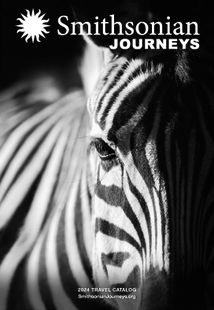 Request a Free Catalog
Download now to find inspiration for your next journey
Get It Free!
Be the First to Know
Sign up to learn more about our tours and special offers
Sign Up