Gardens of the Caribbean
---
The first thing most of us think about when we imagine the Caribbean is how fast we can get a bathing suit on and stick an umbrella on a sandy part of the beach. But the Caribbean is also a haven for beautiful gardens, unique animal species, and an eclectic ecosystem.
The region ranges in elevation from 40 meters below sea level to up to 3,000 meters, resulting in a variety of rare animals and plants that can only be found on these islands. The lowlands are don't receive much rain and are considered semiarid, with some plants such as cactus scrubs being found on parts of Barbados, Jamaica, and Puerto Rico. At the same time, trade winds tend to push moisture in the highlands of the islands, creating a rainforest climate where completely different species of flora and fauna are found.
How special is the Caribbean when it comes to biodiversity? When you look at the numbers, it's pretty amazing. There are over 13,000 plant species found on these islands, and 50.4% are only found in this region of the Earth. But it's the amphibians that truly makes the islands special. Amazingly, 100% of the amphibians—over  170 species—are native to the islands. Then there is the unique diversity of mammals, reptiles, and birds that are found on each island.
The wildlife to view and appreciate in the Caribbean is everywhere, and if you have really good eyes, you might see a few of the tiny hummingbirds found in the tropics - all while getting a great tan.
Which Caribbean Island is your favorite to visit? Tell us why!
Marvel at the beautiful colonial architecture and gardens of the Caribbean this January aboard the Sea Cloud II with Smithsonian Journeys!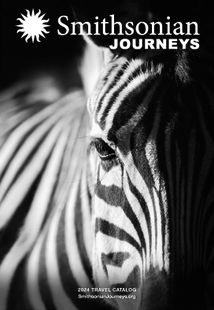 Request a Free Catalog
Download now to find inspiration for your next journey
Get It Free!
Be the First to Know
Sign up to learn more about our tours and special offers
Sign Up