Splendors of Morocco - The Fabric of Life
---
Strolling through a souk, it's hard not to notice the intricately woven textiles of Morocco. The Smithsonian found these textiles to be so fascinating, they created an exhibit at the National Museum of African Art called The Fabric of Moroccan Life.
The traditional world of Moroccan textiles was predominantly filled with wealthy women, who learned to sew, embroider, and design as young girls. The women adorned themselves with exotic fabric and jewelry both to show their economic status and create their own style. What makes these particular textiles so unique is that Moroccan style borrows from various other cultures -  the dominant influences are Islamic and Berber, but elements of Jewish, African, and Mediterranean styles are also incorporated.
Once married, women would continue to embroider and might have joined harems where they learned and shared their technical skills and ideas with other women. Because these textiles brought critical income to their communities, women also enjoyed a certain amount of creative freedom.
If you were shopping at a Moroccan souk, what would you buy? Jewelry, blankets, artwork, clothing?
Shop at a medieval maze of souks on our Splendors of Morocco tour.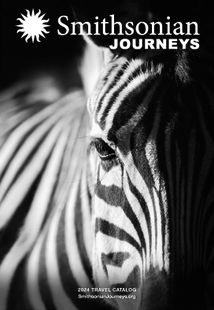 Request a Free Catalog
Download now to find inspiration for your next journey
Get It Free!
Be the First to Know
Sign up to learn more about our tours and special offers
Sign Up