Things you didn't know about Michelangelo
---
When any art fan thinks of Florence, there is always a connection to Michelangelo. No artist has put his mark on the city quite like he has. Yet, how much do we really know about him? Although his reputation has spanned centuries, he was human like the rest of us—with ups and downs in his own life. Here are a few things about this iconic artist that you might not know:
1.) Michelangelo di Lodovico Buonarroti Simoni was born March 6, 1475.
2.) The family business was small-scale banking, a trade that had been passed down for generations. But his father struggled to keep the business successful, and took government positions to supplement the family income. Because of this break in tradition, Michelangelo was free to explore other career opportunities.
3.) At the age of 17, Michelangelo worked as Bertoldo di Giovanni's apprentice, as did fellow contemporary Pietro Torrigiano. It was Pietro who punched Michelangelo, resulting in a broken nose that is clearly reflective of every portrait of Michelangelo.
4.) When Michelangelo was commissioned to paint the Sistine Chapel ceiling, the original idea was to paint the 12 Apostles against a starry sky. But the artist insisted on a more complex theme, and when it was finally completed it included 300 figures highlighting stories from the Book of Genesis.
5.) Although many of Michelangelo's most notable works were created earlier in his life—Pietà, for example, was carved when he was 24 years old—he lived a surprisingly long life and passed away at the age of 88.  
Who is your favorite Renaissance artist—Michelangelo, Raphael, or Da Vinci?
Explore the Italian Renaissance with new eyes and perspectives when you travel to Florence with Smithsonian.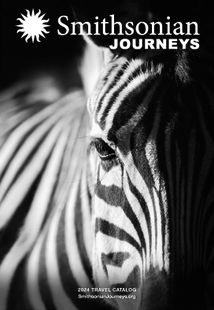 Request a Free Catalog
Download now to find inspiration for your next journey
Get It Free!
Be the First to Know
Sign up to learn more about our tours and special offers
Sign Up