Into Africa: Who Was Diego Cão?
---
Europeans have sought riches in the Congo for centuries. As we planned our Into Africa cruise, part 3 of our 4-part Grand African Voyage exploring this fascinating continent, we wondered which European first explored the famed Congo River. It turns out that the first European exploration dates back to the 15th century, led by a Portuguese explorer named Diego Cão.
Born around 1450 as an illegitimate son in Vila Real, Portugal, Cão was one of the most remarkable explorers from the
Age of Discovery
, and led two voyages sailing along the west coast of Africa. In the late summer of 1482, Cão reached the mouth and estuary of the Congo River, at what is now Shark Point, Angola, and marked it with a stone pillar known as a
padrão -
declaring the area sovereign to Portugal.
Today, the pillar still exists but has fallen to pieces. Yet, the people of Angola are very aware of Diego Cão, as he was responsible for Angola's colonization, and continued close ties to Portugal.
If you had lived in the 15th Century, would you want to be an explorer?
Check out Africa in the 21st century from Namibia to Ghana on our Into Africa tour, as well as our other tours on the Grand African Voyage, departing in 2011!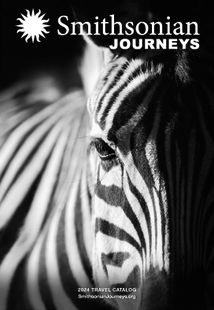 Request a Free Catalog
Download now to find inspiration for your next journey
Get It Free!
Be the First to Know
Sign up to learn more about our tours and special offers
Sign Up