Life with 4,000 Roommates
---
Sultan Mehmed II began construction of Topkapi Palace in 1459. Having recently conquered Byzantine Constantinople for the Ottomans, he needed a nice place to stay. The perfect location, he decided, was on the Seraglio Point, which provided commanding views of the Golden Horn, Bosphorous Strait, and the Sea of Marmara, providing a security advantage. Here's a few good things to know about Topkapi:
— The palace is really a complex—a city within a city comprised of myriad low buildings connected by streets, passageways, and paths, with gardens, courtyards, and fountains in between. In its heyday, more than 4,000 people lived there.
— Topkapi not only served as the sultan's residence; it was also the seat of the Ottoman government. Courtly behavior was regulated by a strict code of conduct, including the observation of total silence in the inner courtyards.
— Security was of top priority to the Ottomans, and the palace was designed with its own water supply, kitchens, stables, libraries, gardens, art galleries, bath houses, schools, and mosque. Residents rarely left the complex.
— The Imperial Harem, once home to the Sultan's mother, wives, concubines, and other family members, has 400 rooms. The harem is actually a complex of its own, with each major group  having its own living quarters and courtyard. Few residents of the harem were allowed outside its doors.
— Ottoman sultans lived at Topkapi from 1465 to 1856, when Sultan Abdul Mecid I moved the court from Topkapi to the newly built European-style
Dolambache Palace
.
— In 1924, Topkapi was transformed into a museum, which continues to hold collections of Muslim relics, decorative items, military weapons and armor, artwork, jewelry, textiles, and more.
What's the most intriguing place you've ever visited? Please share.
See Topkapi, and much, much more of Turkey on our Legendary Turkey and the Turquoise Coast tour, with four departures this fall.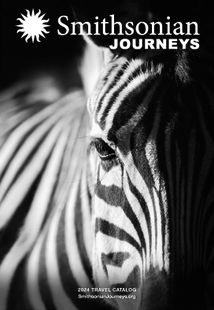 Request a Free Catalog
Download now to find inspiration for your next journey
Get It Free!
Be the First to Know
Sign up to learn more about our tours and special offers
Sign Up