The Hualapai Nation and the Grand Canyon
---
Have you ever tried to describe how big the Grand Canyon is to someone who has never seen it? It can't be put into words how far, how deep or just the amazing colors that burst from the rocks at sunset. Now imagine being able to walk across the canyon and look down as if you were a bird.
The Hualapai (pronounced wä'lə-pī') Nation of Arizona thought of that, and then decided to make it a reality. They created a Grand Canyon Skywalk, a U-shaped walkway that extends over the canyon with a clear glass bottom that allows visitors to view it from a different perspective. The walkway spans 70 feet over the Grand Canyon's rim and sits 4,000 feet above the Colorado River. By the time it was completed in March of 2007, the walkway had received lots of positive press and is considered one of the best day trips from Las Vegas, Nevada. It has attracted over one million people from six continents and more than 50 countries.
You may have heard of the Grand Canyon Skywalk, but how much do you know about the Hualapai Nation? Hualapai means "people of the tall pine" and their ancestral land stretches about 100 miles along the pine-filled southern edge of the Grand Canyon and along the Colorado River. The elevation of the land varies widely—starting at 1,500 feet at the Colorado River and then escalating as high 7,300 feet at its highest point of Aubrey Cliffs, located on the eastern end of the reservation. Physical evidence of the group being in the area dates back to 600 A.D.
Today, there are approximately 1,400 Hualapai people, and the area has gone through revitalization, mostly because of the tourism efforts of the tribe. River-rafting, traditional and modern tribal arts, and hunting expeditions have all helped support the local economy. The results include 200 new homes, an improved community water supply and sewage system, and additional street lights—all valuable to create a solid infrastructure for the future.
How would you describe the Grand Canyon to someone who has never been there?  
Never been to the Grand Canyon? Check out our Grand Canyon Weekend Adventure and see it for yourself!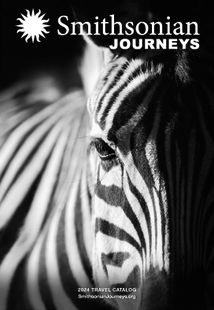 Request a Free Catalog
Download now to find inspiration for your next journey
Get It Free!
Be the First to Know
Sign up to learn more about our tours and special offers
Sign Up