How Did Le Cordon Bleu Get Its Name?
---
A demonstration at Le Cordon Bleu
Julia Child attended the world class Le Cordon Bleu cooking school while living in Paris. So how did it get its name? First, we should translate Le Cordon Bleu. For those of us who don't know a bit of French, it means "The Blue Ribbon." Then we should ask, "What was the significance of a blue ribbon?"
For anyone who has attended a county fair, it is the blue ribbon that everyone wants to earn. Maybe it was for the biggest pumpkin, or the best apple pie. Either way, if you earned the blue ribbon, you were the best of the best.
What's surprising is that le cordon bleu dates back to the 16th century when King Henry III of France created the l'Ordre des Chevaliers du Saint Esprit (Order of the Knights of the Holy Spirit). From 1578 to 1789, it was the most exclusive order in France and each of its members were awarded with the Cross of the Holy Spirit, which hung from a blue ribbon known as Le Cordon Bleu, which is depicted in this image of Louis Gonzaga, Duke of Nevers - the first to receive the order.
All members had to be at least 35 years old and Roman Catholic, but there were a few exceptions based on royal connections. Children of the king were members from birth, but were not received into the order until they were 12, while Princes of the Blood could be admitted to the order from the age of 16, and foreign royalty could be admitted to the order from the age of 25. These 100 knights were then called Les Cordon Bleus.
So how did it relate to food?
After the ceremonies held for these highly respected guests, there were huge sumputuous feasts held in their honor that became legendary. It is believed the name of the knights then became synonymous with the food prepared for their events. Over time, it became a symbol of prestigious quality.
Have you ever received a blue ribbon for your cooking skills?
Visit the real Le Cordon Bleu on Bon Appétit! A Culinary Journey in Paris and have your own cooking and tasting experience of the highest class.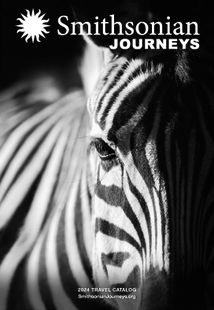 Request a Free Catalog
Download now to find inspiration for your next journey
Get It Free!
Be the First to Know
Sign up to learn more about our tours and special offers
Sign Up