Video: The Northern Lights
---
The Aurora Borealis (also known as the Northern Lights) is a vibrant, otherworldly light display that has to be seen to be believed. Named for the Aurora, the Roman goddess of dawn, and Boreas, the Greek term for "north wind," the Northern Lights have been drawing enthusiastic spectators since humans have lived within sight of this celestial phenomenon. Here, see a time-lapse video of an Aurora Borealis display.
Want to see for yourself? We'll teach you about the relationship between electricity, the ionosphere, and the Aurora, and we'll even provide the cold weather gear. Limited space available on our Northern Lights of Canada program this September, so book soon! Fall is one of the best times of year to see the Aurora.
Click here to learn more about the Aurora Borealis and more from Smithsonian's National Air and Space Museum, or click here to read about the Northern Lights in Smithsonian Magazine.
What can you see in the night sky where you live? Share below.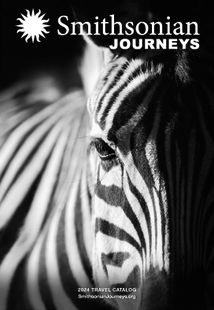 Request a Free Catalog
Download now to find inspiration for your next journey
Get It Free!
Be the First to Know
Sign up to learn more about our tours and special offers
Sign Up