Q&A With Opera Expert Fred Plotkin
---
Q: Fred, in your approach to Italy, you often seem to like the path less taken...
A. True. I certainly love the famous spots such as Rome, Florence, and Venice, and I return to them all the time. But they have in some ways become victims of their popularity so that they lack some of the authenticity they had some decades ago. But Italy is a nation that historically was composed of city-states that were little jewels unto themselves, with local food and wine, music, dialects, and traditions. To a great extent these still exist, so going to a small Italian city is to find a true Italian flavor that is harder to come by in the tourist capitals.
Q. For example...?
A. I could name places in all twenty regions. In the past, I have taken Smithsonian travelers to the Marche, the region with 76 jewel-box opera houses, two world-class opera festivals in Macerata and Pesaro (the latter dedicated to hometown boy Rossini) and we visited stunning art towns such as Urbino (birthplace of Raphael) and Ascoli Piceno. While there, we had a cooking class, explored the history and geography, and had time for gorgeous Adriatic beaches. It was much of the best of Italy in one small region that no one had been to.
Q. Where would you go next?
A. Many Smithsonian travelers have told me that they are very interested in southern Italy, which is to say the regions south of Rome. Some of them have been to Naples, Capri,  and Positano, but not much else. These are the regions where most North American Italians have their roots, yet they are not well-known and are very misunderstood. They have divine food, beautiful scenery, very welcoming people and almost no tourism compared to the famous places up north. So each visitor is treated as an honored guest. To me, the two most beautiful towns of many in the South are Martina Franca (in Puglia) and Ravello (in Campania). To me, Martina Franca looks like a set from a Zeffirelli opera production. Whitewashed buildings, churches dominating sunny piazzas, laundry flapping in the breeze, and a bustling passeggiata, the characteristic afternoon stroll that all Southern Italians partake of. Nearby are the famous trulli, ancient conical structures that are the homes people have occupied for centuries. It is the real Italy, but most people don't know it. Martina Franca also is the home of the Festival della Valle d'Itria, an opera festival that is famous for presenting lesser-known operas by popular composers. We can only see La Bohéme or La Traviata so many times without craving something else, and this festival provides that.
Q. And Ravello?
A. Wait, there's more to tell about Martina Franca! Nearby is Lecce, a gorgeous town known as the Florence of the South. There are good cooking schools there, and nearby, and I would have us take a class. Then, this area has an institution called the masseria, a sort of walled farm dating from the times when they were built so that invaders could not get in. These magnificent buildings exist to this day, many still serving as farm buildings, others as hotels. I like the ones that produce wine, and I would have a group visit one. And then there is Matera, in the neighboring region of Basilicata. There is no place like it anywhere else in the world. It is a city full of caves that people live in. It is beautiful and mysterious and so off the beaten path that you feel like you are arriving in uncharted terrain. It is a UNESCO World Heritage site.
Q. … And Ravello?
A. Ravello is perched above the Amalfi Coast  in Campania. It is far from the hubbub, a supremely beautiful little jewel where Ibsen wrote Peer Gynt, Wagner wrote the second act of Parsifal, John and Jacqueline Kennedy  spent their honeymoon, and other notables such as Greta Garbo and Igor Stravinsky lived in quiet seclusion. I spent five summers there in the 1980s. My favorite restaurant in southern Italy is there, called Cumpa' Cosimo. I have eaten there on every visit since 1973. The chef/owner is named Netta and she makes the gold standard of dishes that Americans think of as Italian food. But once you taste her ravioli, tomatoes and other products, you will understand what they really are supposed to taste like.
SJ: Is there music in Ravello?
FP: It has a wonderful festival of classical music in gorgeous gardens. This year, for the bicentennial of the birth of Robert Schumann, there will be a lot of his music played there. After stays in Martina Franca and Ravello, we will head to Rome to see a pull-out-all-the-stops production of Verdi's Aïda at the Baths of Caracalla. I saw it on my first visit there, in 1973, but the festival was soon abandoned for many decades. It only recently returned so I can't wait to see this great opera in that magical setting.  After this wonderful visit to the best of Southern Italy, many travelers might choose to stay on in Rome for a few days before heading home. I know I will, and will be glad to give tips and suggestions for what to do and where to eat while they are there. For me, that is a pleasure!
Packed yet? Click here  to reserve your spot on our Opera Lover's Italy tour with Fred Plotkin.
What do you like best about Italy? The scenery, food, people, or music? Comment below.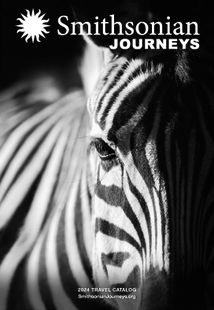 Request a Free Catalog
Download now to find inspiration for your next journey
Get It Free!
Be the First to Know
Sign up to learn more about our tours and special offers
Sign Up