Video: Hollywood Auditions: Calling All Bugs!
---
We see them in movies all the time, and we all tend to squirm. Like in Indiana Jones, when Kate Capshaw is covered in creepy crawly bugs which would give most of us the heebie jeebies. Yet, there are professionals that love working with bugs, spiders and all of those other little critters that have more legs than we do. Entomologists study bugs while learning their behavior, habits, and how they work as a community.
The Smithsonian has studied some of the most common bugs in our backyards, including the everyday household ant. We may think they are simple little insects, but they actually create complex underground homes that include several spiraling caves into well-planned chambers. They communicate in a variety of ways, vibrating their bodies to let others know of food or danger. But there really is nothing like seeing the more exotic leaf-cutter ant in its own habitat, which you can do in Costa Rica. These ants create their nests by crawling up trees, carving out leaves, and then taking them back home. The leaves are then used to create compost to help feed the colony.
Paula, from our family show called SciQ on the Smithsonian Channel, was incredibly brave to complete this segment with a very special Hollywood actress named Rosie. If you are as brave as Paula, we've provided an opportunity for you to feed a tarantula at our O. Orkin Insect Zoo at the National Museum of Natural History.
Take your future bug scientist on our Costa Rica Family tour this summer!
Which is your favorite bug you love to hate?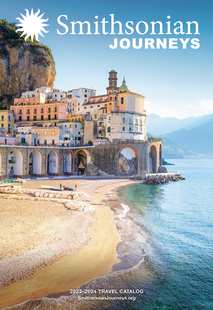 Request a Free Catalog
Download now to find inspiration for your next journey
Get It Free!
Be the First to Know
Sign up to learn more about our tours and special offers
Sign Up