SI Research Notes: Ancient Egyptian Art
---
From 1906 to 1909, Charles Lang Freer, founder of the Smithsonian Institution's Freer Gallery of Art, visited Egypt on three separate occasions. On the first, he traveled by train and boat along the Nile River from Alexandria in the Nile Delta south to Wadi Halfa, visiting many well-known tourist destinations such as museums, archaeological sites, churches, and mosques. On all three trips, he also frequented the shops of antiquities dealers and the homes of private collectors, seeking to acquire works of Egyptian art to add to his already extensive collections of Chinese and Japanese art and late 19th-century American painting. Unlike many collectors of his day, whose knowledge of Asian and Egyptian art was gained exclusively through museum collections, dealers' shops, and international expositions in Europe and the United States, Freer placed a high value on studying the art of a civilization in its' native land.
Egypt's ancient monuments captivated Freer. His first trip convinced him that his collection would be incomplete without examples of Egyptian sculpture in stone and wood.
Most of Freer's Egyptian acquisitions were made during his final trip to Egypt in 1909, which was devoted largely to visiting dealers' shops in and around Cairo. The most important of these was a private collection of nearly 1400 glass objects, including vessels, beads, inlays, and fragments, ranging in date from the New Kingdom (1550 – 1070 B.C.E.) to the Roman period (30 B.C.E. – 395 C.E.). Among his other purchases were bronze figurines, limestone plaques, and sculptures of wood and stone.
Today, part of the Smithsonian's National Museums of Asian Art, the Freer Gallery's Ancient Egyptian Collection  comprises more than 1,000 objects with a historical range from 2,500 B.C.E.- 400 C.E. In addition to the world-famous collection of glass vessels, highlights of the collection include a pair of stone falcons, probably from a temple near Alexandria, dating to the Ptolemaic dynasty (ca. 305-30 B.C.E.) and a collection of amulets made of faience, stone, metal, and glass depicting gods, goddesses, and sacred animals.
A small exhibit representing the Freer's vast Egyptian holdings is on display at the Gallery.
What's your favorite thing about ancient Egyptian Art?
If you've always dreamed of visiting Egypt, we can help. Click for our travel to Egypt.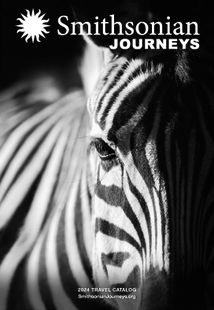 Request a Free Catalog
Download now to find inspiration for your next journey
Get It Free!
Be the First to Know
Sign up to learn more about our tours and special offers
Sign Up