Video: A Palace with 9,999 Rooms
---
Most of us are lucky to have a home that might have three bedrooms and one bathroom. But imagine living in a place that has 9,999 rooms! There is such a home which boasts the name "The Forbidden City," and it can found in the middle of  Beijing, China.
But why 9,999? Why not 10,000?
There's a perfectly good reason, but you'll have to watch this video to find out. If you want to learn more, China's Forbidden City can be seen on the Smithsonian Channel. This summer, students who travel on our new Smithsonian Studies Abroad program in Beijing will have the opportunity to see the Forbidden City and explore some of these rooms. They may come back wanting to redecorate their own bedroom, or possibly the entire house.
Would you want to live in a home with 9,999 rooms?
Smithsonian Studies Abroad is filling up fast for this summer! Will you go to China, Italy or Spain?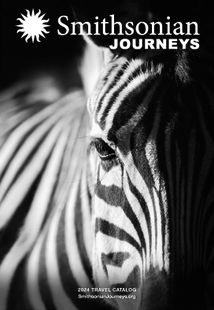 Request a Free Catalog
Download now to find inspiration for your next journey
Get It Free!
Be the First to Know
Sign up to learn more about our tours and special offers
Sign Up