Video: Do You Know the Code?
---
We are thrilled to launch our new Smithsonian Studies Abroad program, designed specially for high school students looking for unique experiences this summer. One of our most popular programs is located in gorgeous Florence, Italy, where students will learn Italian while focusing on the art, architecture, and history of the Renaissance.
Even before the Renaissance, Italy had a fascinating history of conflict between pagan Romans and early followers of Christ.  Issues date back as early as 64 A.D., far before Italy became the predominantly Catholic country we know today. To be Christian could mean prison, torture, or being put to death. As a result, codes were required for Christians to travel throughout the region. What kind of codes were used? Find out by watching this video from the show Decoding Christianity courtesy of the Smithsonian Channel.
The deadline to sign up for Smithsonian Studies Abroad for Summer 2010 is quickly approaching! Click to learn more.
Which program do you want to explore? Share below!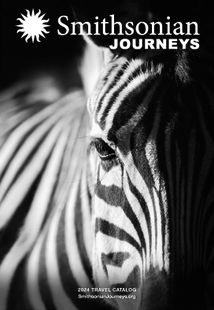 Request a Free Catalog
Download now to find inspiration for your next journey
Get It Free!
Be the First to Know
Sign up to learn more about our tours and special offers
Sign Up