Video: Iditarod – Where the Dogs are Braver than the People
---
The Iditarod is considered to be "The Last Great Race on Earth", but the rock stars of the event aren't the people, they are the dogs. The most well-known breeds are the Siberian Husky and the Alaskan Malamute, but during the Gold Rush era, there were teams of Foxhounds and Staghounds. Most recently, the Alaskan Husky breed has been the most popular to be used competitively. Smithsonian Journeys Program Manager Alyssa Bobst had the opportunity to see the best of the best up close and personal while volunteering as a dog handler. You can read about her experience here.
How amazing are these dogs? Sled dogs have been known to travel more than 90 miles in a 24 hour period while pulling 85 pounds each. They can burn as much as 14,000 calories per day during the race. Mushers must put their total trust and faith in the world-class athletes of the dog world. But are their mushers a little nervous as they face 1049 miles in the freezing Alaskan weather? According to this well seasoned expert, they shouldn't be nervous - they should be scared.
Would you compete in the Iditarod?
Sing The Iditarod Trail Song with Hobo Jim while getting up close and personal as a volunteer dog handler on our tour: The Iditarod: Alaska's Race Extraordinaire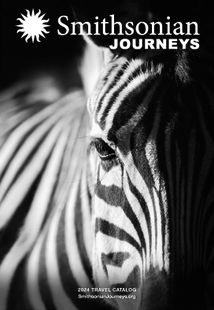 Request a Free Catalog
Download now to find inspiration for your next journey
Get It Free!
Be the First to Know
Sign up to learn more about our tours and special offers
Sign Up