Holiday Greetings from Journeys Director, Amy Kotkin
---
I spent Thanksgiving with my family in Connecticut -- chilly, rainy, slate gray until it turned dark at 4:30 pm -- in other words -- perfect for that cocooning instinct that overtakes us this time of year. But besides the gut-busting foodfest, football, and scrabble games, what do you think the family wanted to talk about? Travel!
My brother and his wife are savoring their plans to travel with Smithsonian on their first-ever small ship cruise in June.  My 20 year-old niece, already an accomplished adventurer with serious stays in Tbilisi and Kathmandu under her belt, imagined herself in Dakar. My husband and I talked eagerly about Spain and Australia's Great Barrier Reef  -- our next planned destinations.
It struck me once again how often families plan their next year's travels during the holidays. After all the anticipation of getting together, gift-giving, delicious dining, and story-telling subsides, our thoughts turn to "What's next? Why lies ahead? What will we see, touch, savor, and learn during the coming year?"
If destination planning is part of your holiday ritual, Smithsonian Journeys is happy to provide you with lots of tools and options for choosing what's best for you. Are you thinking about introducing your children and grandchildren to the pleasures of travel and discovery in 2010? Join us in the Galápagos, Tanzania, or Greece for memorable adventures in these spectacular regions.
Will you celebrate a milestone birthday this year?  Check out our cruises  -- they offer great opportunities to celebrate! Are you an opera fan?  We're offering special opera tours to Italy and the Metropolitan Opera  in New York featuring the finest performers and top productions.
Of course, if you'd like to do a little pre-holiday travel planning be sure to contact us. We'd be happy to provide you with a customized gift certificate for the trip of your choice, the perfect gift for anyone in your family!
I'll spend the upcoming holidays here in Washington, catching up on Smithsonian museum exhibits, enjoying the city lights, talking with you about your 2010 travel plans, and cooking up a few of my own! I'm hopeful that our paths will cross somewhere in this vast and glorious world in 2010, on a Smithsonian Journey that will offer all of us insight, access, and understanding.
All my warmest wishes for the holidays, and for the year ahead!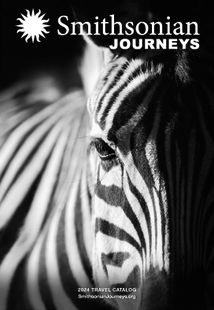 Request a Free Catalog
Download now to find inspiration for your next journey
Get It Free!
Be the First to Know
Sign up to learn more about our tours and special offers
Sign Up