Following Lewis and Clark
---
Today, our group traveled deep into Lewis & Clark country in the panhandle of Idaho. With balmy weather and first-rate guides, historians, and naturalists, our adventure revealed wildlife, dramatic basaltic walls, waterways that have served as nature's highways for thousands of years, and backdrops for stories about Native cultures, geological wonders, and the opening of the West.
After boarding a motor coach with an expert local guide and historian,
Lewis & Clark
  devotees followed the foot and horse steps and Clearwater River routes of the Corps of Discovery along their 1805 (westward) and 1806 (eastward) paths. The 
Lewis & Clark
  journey through
Nez Perce
 country is a mixing of two worlds: the traditional Indian culture of Northern Idaho, the Bitterroot Mountains and western Plains (the Nez Perce or NeMeePoo people), and the bold, disciplined Euro-Americans who were following orders of President Thomas Jefferson to establish an American presence in the Pacific Northwest.
Our guide led the Lewis & Clark party to sites that matched the actual locations of the Corps as they struggled both directions on the trail. Story-telling was the modus operandi to describe exploits, mistakes, successes, privations, and experiments by Meriwether Lewis and William Clark as they virtually bushwhacked their way through unknown topography. The journals of the Corps and rough maps of Clark were used as milestones along this route. In fact, because of the extraordinary length of time – almost three months total both ways – the Corps spent in today's Idaho Panhandle there are more Lewis & Clark sites in this rolling hill, or Palouse, country than anywhere else on their 3,000 mile trail.
Who's your favorite explorer? Share below.
Follow Lewis & Clark for yourself. Click for details on Smithsonian Journeys' 2014 tour.
There's much more on Lewis & Clark in Smithsonian  magazine.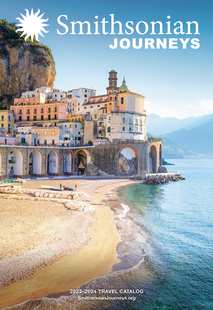 Request a Free Catalog
Download now to find inspiration for your next journey
Get It Free!
Be the First to Know
Sign up to learn more about our tours and special offers
Sign Up