Cruising The Great Lakes
---
Our journey aboard the Clelia II began as we traveled east from Duluth, Minnesota and the waters of Lake Superior, to Toronto and the waters of Lake Ontario. All voyages through such beautiful landscapes would be lovely, but traveling with Smithsonian made the journey a memorable and enriching experience.
The star of my voyage, my study leader, Dr. Bob Burger, is a university professor of geology, and because of the design of our Smithsonian tours, not only was I able to attend his fascinating lectures, I was also able to travel with him on our daily excursions and dine with him at several points throughout the tour. It was like having your favorite professor in college by your side anytime!
Throughout our voyage, our lectures focused on how the Great Lakes  were formed, the mineral deposits of the regions, the natural wonders of the lakes, and finally what trade and settlements developed as a result of the lakes. Of course, each of these lectures tied in directly to our daily excursions. Excursions included the copper mines of Houghton, Minnesota, the Fur Trade Settlement of Old Fort William, and Niagara Falls, as well as the locks our ship passed through.
These locks are incredible feats of engineering- the Soo Locks of Sault St. Marie are the busiest in the world with 12000 ships passing annually, and the Welland Canal is a series of seven locks designed as a continuous flight of "stairs" that lifted Clelia II 324 feet over a distance of 27 miles! I couldn't believe how excited our travelers got as we passed through these locks, and it was wonderful to share their enthusiasm.
My most memorable moment with Dr. Burger, however, was on Mackinac Island as we visited Arch Rock, a natural limestone arch formed during the Nipissing post-glacial period. According to Native American legend, this rock was formed when a beautiful Indian maiden's tears washed away the limestone bluff as she waited in vain for her lover to return. As we were looking at the beautiful site, he turned to me with quiet humor and said, "Well, it's possible, but not very likely that that's how it was formed." Experiencing history and nature firsthand is truly exceptional, and Study Leaders like Dr. Burger make the difference between being a tourist and becoming a traveler.
What's your favorite engineering marvel? Share below.
Join us on the next Great Lakes cruise or click to see all of our US tours.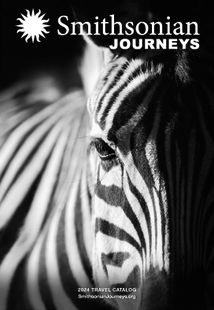 Request a Free Catalog
Download now to find inspiration for your next journey
Get It Free!
Be the First to Know
Sign up to learn more about our tours and special offers
Sign Up