My Journey Through Egypt
---
The Egyptian Odyssey was the trip of a lifetime. It was clear to me that every aspect had been researched and developed thoroughly. Amal, our Egyptian guide, and Dr. Randa Baligh, our study leader, were incredible. Hassan, our Egyptian tour manager, had everything under control and coordinated side trips in our free time. I loved how we seamlessly moved from location to location.
We were a group of 17 which was nearly perfect. Having Amal and Randa travel with us the whole time was really a treat. They are both so personable and all around exceptional people.
Amal, our local guide, is a treasure. She added an unexpected pleasurable element to the tour. She is so bubbly and outgoing. I loved her way of describing all the sites. She has incredibly good English. Amal always seemed to time our stays at each site perfectly. Just enough lecture and just enough free time. She is worth every penny she is paid – in fact she deserves more!
Dr. Baligh's lectures were very educational and insightful. She has excellent delivery skills that are both informative and entertaining. Randa is a lovely person and a delight to have along. She is obviously incredibly knowledgeable and I like that she is so familiar with the US that she can do comparisons and contrasts between the cultures of the US and Egypt.
Hassan is a terrific asset. He always made us feel safe. We knew we were in very capable hands. We were all aware of our security guard being present at all times but did not feel it was necessary.
The extra stops at the perfumery, rug makers, spice market, papyrus store, etc. were lovely. It was nice to have the chance to purchase locally made quality products. The Aswan Spice market was fabulous. Only a few of us made this side trip, but I think everyone would have enjoyed it! There is a lot crammed into each day, making me feel that I really got my money's worth.
Where have you traveled most recently? Share below.
See Egypt for yourself. Click here for travel opportunities with Smithsonian Journeys.
Traveled recently and want to share your thoughts? Click to see more information about submitting your post  for publication on our blog.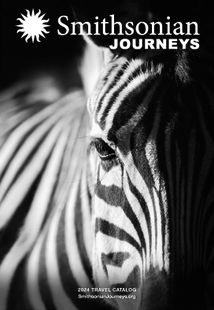 Request a Free Catalog
Download now to find inspiration for your next journey
Get It Free!
Be the First to Know
Sign up to learn more about our tours and special offers
Sign Up