Travel Hit List: Japan
---
Forget the cold, rainy weather, your overstuffed inbox, and that growing pile of voicemails. Take a minute to go on a virtual trip to Japan, where they revere the old, but embrace the new.
Read: Serene temples, beautiful gardens, and a reverence for ancient traditions can be found on Japan's less-traveled San-in Coast. From Smithsonian Magazine.
Hear: Sakura: A Musical Celebration of the Cherry Blossoms. From Smithsonian Folkways.
Watch: A video of modern Japanese artisans faithfully recreating the painstaking processes of Edo period printmaker Katsushika Hokusai. From the Smithsonian Channel.
Eat and Drink: Become a student of tea and discover the intriguing beauty that is the Japanese Tea Ceremony. From the Smithsonian Journeys Blog.
Check out: Masterful Illusions, an online exhibition of Japanese Prints. From Smithsonian's Freer and Sackler Galleries.
Go: Now is a great time to book a journey to Japan.
Join: Smithsonian Journeys is on Facebook. Become a fan today.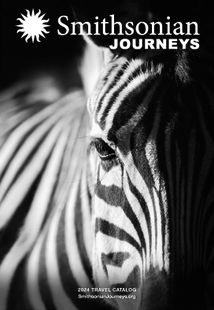 Request a Free Catalog
Download now to find inspiration for your next journey
Get It Free!
Be the First to Know
Sign up to learn more about our tours and special offers
Sign Up