Video: Hole in One
---
The British Open is celebrating 150 years in 2010, and each year has its share of highs and lows as champions from around the world vie for the Claret Jug. One unique situation occurred in 1981 on the 16th hole at Royal St. Georges in England, where there wasn't just one spectacular shot. There were three holes in one.
Great Britain is home to many of the best golf courses in the world. But for most golf fans, St. Andrews is the best and the Old Course is the big finale of the British Open. As Tiger Woods has said, "'Winning at St. Andrews is the ultimate." But for many of us, just playing a round there would be a once in a lifetime experience.
Known as Scotland's finest golf course, St. Andrews is also one of the most difficult courses in the world and has remained relatively unchanged since the 1700s. The city itself is far older; it dates back to the 8th century, when the relics of the disciple St. Andrew were brought to the area by a monk named St. Regulus from Constantinople. Other notable sites in the area include the cathedral, consecrated in 1320, and the University of St. Andrews, founded in 1413, which is Prince William's alma mater.
The Old Course, which dates back as early as the 15th century, originally had 22 holes, 11 out and 11 back. In 1764, the Society of St. Andrews Golfers, which later became the Royal and Ancient Golf Club, decided that some holes were too short and combined them. The result of this decision is the standard 18-hole course played today.
Now you can go back in time and check out highlights from the 1978 British Open with narration by a much younger Sean Connery.
Explore St. Andrews for yourself at the The British Open.
What's your best golf score? Share below.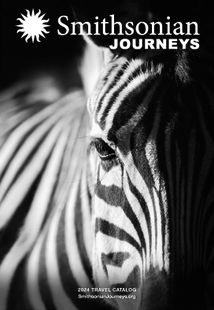 Request a Free Catalog
Download now to find inspiration for your next journey
Get It Free!
Be the First to Know
Sign up to learn more about our tours and special offers
Sign Up