World Heritage: Yosemite National Park
---
In a country with such natural beauty and diversity it is no wonder that three US National Parks have been declared UNESCO World Heritage Sites. Yellowstone, Yosemite, and the Grand Canyon National Parks attract visitors from the world over to see their active geysers, white-topped mountains, and flowing rivers.  Yosemite, the world's first national park, was designated as such in 1906 and as a UNESCO World Heritage Site in 1984.
Located in east-central California, the Yosemite area was home to indigenous Paiute, Sierra Miwok, and Ahwahneechee groups long before non-indigenous people entered the region. In the mid-19th century, the California Gold Rush attracted as many as 300,000 new people to the area and displaced the area's original settlers. Nearly a half-century later, some of the area's first "tourists," James Mason Hutchings and Thomas Ayres, investigated and sketched a stunning array of geographical features and wildlife.
In 1903, the landscape seen on a camping trip with preservationist John Muir so enchanted President Theodore Roosevelt that he transferred control of the land to the federal government in order to better preserve the park's geography, wildlife, and natural beauty. The area officially became a national park in 1906, and was the first such park in the world. Since then, more than 200 other countries have followed our example and set aside land where people can enjoy the outdoors and undisturbed natural landscapes.
In Yosemite today, spectacular granite cliffs, thundering waterfalls, clear streams, and giant Sequoia groves attract more than 3.5 million visitors annually. History and geology buffs alike may learn more about the park's historical and geological origins at the Yosemite Museum, founded in 1926. Due to increased protection efforts, hikers, bikers and other outdoor enthusiasts can continue to enjoy the park's rich offerings for years to come.
What's your favorite National Park and why? Share below.
Yosemite is especially beautiful in spring. Join us in May, 2010, for an exploration of the park.
Smithsonian Journeys also visits Yellowstone, Big Bend, and Glacier National Parks. Click for details.
There is a new mini-series on PBS by Ken Burns about our National Parks. Click to learn more.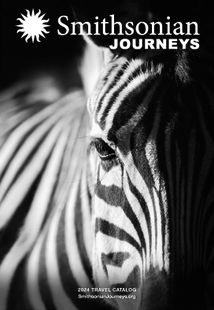 Request a Free Catalog
Download now to find inspiration for your next journey
Get It Free!
Be the First to Know
Sign up to learn more about our tours and special offers
Sign Up