Inspired by Spain
---
Most of us remember 9th grade. The first year of high school. Sudden expectations for mature behavior. The looming reality of college. The first, hairy driving lessons from a terrified parent. For me, it was also a time of slipping grades and excruciating self-consciousness. As is not uncommon with teenage girls, I started to flounder in math and science. Though the year was not utter misery, I was faced with more challenges than ever before.
That summer, my parents sent me on a study abroad program to Spain, which was a relief for me, as I did not want to be shipped back to summer camp again. Spanish was one of the few consistent A's on my report card that year, and I was pleased to be going to Europe, but most of all I was excited to be on my own.
From the moment I hit the streets of Madrid, where we stayed for the first few days of the program, I was entranced. The late night dinners, the soft lisping of Castellano, the grand cathedrals and stately architecture. Standing in front of La Guernica at the Museo del Prado(this was before it had been moved to Reina Sofía)! Strolling under the graceful colonnades of La Plaza Mayor!
One the way to a home stay in Badajoz, we stopped to visit the historical town of Toledo, the home of El Greco and a veritable living museum of Mudéjar architecture, evidence of the thriving communities of Christians, Jews and Muslims who coexisted peacefully during Moorish rule. Famous for its damascene  jewelry, I can still picture the quaint little shop on the narrow cobblestone street in which I purchased a pair of earrings for my mother. In Badajoz, a city near the Portuguese  border that still cherished the memory of the many sieges it endured, I lived with a family and became immersed in the Spanish way of life, which included a paella cookout in a pan so enormous that a metal bed frame was used to support the pan over the fire, as well as an evening of flamenco where I was intrigued by the dancing but was mesmerized by the delicate passion of the guitar, a revelation to me that rock and roll did not have a monopoly on that stringed instrument. Every day, I surprised myself by being able to communicate more clearly with the people in the shops and on the street, and with my host family, a sweet mom and her friendly daughter.
When I went back to school for the 10th grade, my summer experience in Spain did not magically turn me into a straight A student. But I actually volunteered to accompany my parents to art museums. I began to be more adventurous in my eating, becoming a connoisseur of olives and cheeses and ordering anything with artichoke hearts on a restaurant menu. Perhaps to the annoyance of my friends, I felt a certain sophistication that translated into a more confident approach both within the classroom and without. And I was on the path to a fluency in Spanish that remains with me to this day.
Click here to see our opportunities for travel to Spain.
Did you know that Smithsonian Journeys now offers Study Abroad for High School Students? We have programs in Spain, China, and Italy. Click for more information.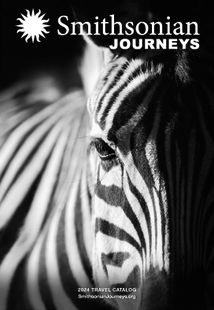 Request a Free Catalog
Download now to find inspiration for your next journey
Get It Free!
Be the First to Know
Sign up to learn more about our tours and special offers
Sign Up