Q&A With Lucia Pierce, Study Leader for China
---
Smithsonian Journeys: The Classic China and the Yangtze River itinerary features sites of extraordinary natural beauty as well as of great historical significance. Which one are you most looking forward to visiting with Smithsonian travelers and why?
Lucia Pierce: Each site is unique and therefore I have no one favorite. However, I've always had a soft spot in my heart for Xi'an. Not only is it the site of the Qin dynasty—the dynasty that unified China, but it was also the Chinese terminal point of the Silk Road and the most cosmopolitan city in the world during the 8th century. Today it's a large 21st-century city but at the sites we will visit one can get a glimpse of its rich legacy.
SJ: What do you find especially appealing about this tour? What is your favorite part of the tour?
LP: The tour takes us through the varied Chinese landscape and we experience the breadth of Chinese history—visiting places dating from the 2nd century B.C. up to the new buildings being built in Shanghai for the World Expo. My favorite part of the tour is sharing China with the tour members.
SJ: How has China changed in the past years and how has it remained unchanged?
LP: Living in Shanghai I see physical changes every day! China has always been a dynamic country and change has always been woven into Chinese life. China also has a long history in which the importance of family, of a strong central government, and of education has been a constant. I look forward to talking about this during our trip.
SJ: Prior to moving to Shanghai you directed the museum education program at the Smithsonian's Freer Gallery of Art and Arthur M. Sackler Gallery. You have also accompanied numerous groups of Smithsonian travelers to China and other parts of the world. Do you find Smithsonian travelers to be different than other groups you have led and what do you enjoy most about teaching Smithsonian travelers?
LP: Smithsonian travelers have traveled widely, are curious, are independent, and enjoy the serendipitous moments that always occur during trips. I enjoy and am challenged by their questions and enjoy the give-and-take that happens informally every day during our trip.
SJ: You have lived in Shanghai for three years. What highlights of this city are you most eager to explore with the Smithsonian group?
LP: Shanghai has the largest concentration of art deco architecture still extant than anywhere else in the world—there are hidden gems all over the city and especially in the French Concession. In contrast, the tallest building in China has just been completed and the city is undergoing major infrastructure construction in preparation for the World Expo opening in May, 2010. It is these juxtapositions that I look forward to sharing!
SJ: In Beijing Smithsonian travelers will enter the gates of the fascinating Forbidden City. What should they take away from that experience?
LP: Many people leave the Forbidden City with a greater sense of grandeur and the importance of ritual in the imperial system as well as the ability of this self-contained city to remain quite physically separate from the world outside its walls.
SJ: In your experience, what is most rewarding about guiding and lecturing to Smithsonian travelers?
LP: They are eager, interested, and actively involved in looking, listening, and experiencing the tour in all its aspects. They enjoy each other and are wonderfully responsive to what the guides say as well as to my lectures. They ask questions and are open-minded—and they like to have fun!
SJ: What is one of the most memorable experiences from all your previous travels as a Smithsonian Study Leader?
LP: Our flight was delayed out of Chongqing which allowed our group to stop at a small noodle shop on the way to the airport. After two weeks of excellent, but lavish, Chinese lunches and dinners we were ready for something simple. The noodle shop prepared bowls of freshly made noodles in a light broth with delicate flavorings. It was a spur of the moment stop and one that brought us much joy and relaxation and made us quite content that the flight was delayed.
What's your favorite spontaneous travel moment? Share below.
Click here  for more information on traveling to China with Journeys.
Did you know? Smithsonian Journeys now offers summer Study Abroad programs for high schoolers to China, Italy, and Spain. Click  for more.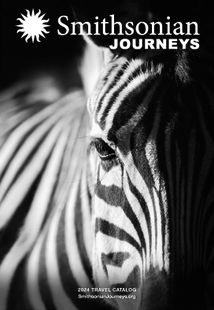 Request a Free Catalog
Download now to find inspiration for your next journey
Get It Free!
Be the First to Know
Sign up to learn more about our tours and special offers
Sign Up