We Recommend: Museum Day 2009
---
Thanks to Smithsonian magazine, enjoy free admission to hundreds of museums and cultural venues across the USA on Saturday, September 26, 2009. It's all part of this year's Museum Day. Click here to request your free admission card. It's all online and it's easy to do.
Featured museums range from the Museum at the Fashion Institute of Technology in New York City to the Imiloa Astronomy Center of Hawaii and hundreds of others in between across the country.
Also, don't forget to mark your calendars for our upcoming Smithsonian Education Conference on Climate Change. This free online conference takes place September 29 - October 1, 2009. Click here for more information on the event and here for the conference blog, which is already underway, thanks to Smithsonian Secretary G. Wayne Clough and other distinguished contributors.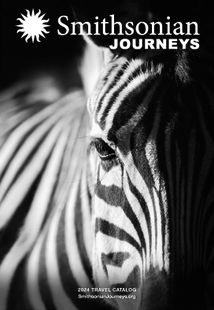 Request a Free Catalog
Download now to find inspiration for your next journey
Get It Free!
Be the First to Know
Sign up to learn more about our tours and special offers
Sign Up