Travel Hit List: Tanzania
---
Is a Tanzanian Safari on your life list? Find out more about what a trip to Tanzania can offer you:
Read: an account from the midst of the annual wildebeest migration across the Serengeti Plain.
Hear: Music from across the continent, courtesy of Radio Africa, a partnership between the Smithsonian Museum of African Art and Smithsonian Global Sound.
Watch: Our live lioncam to see what the lions at the Smithsonian National Zoological Park are up to these days.
Eat and Drink: Learn all about how coconuts, bananas, and honey figure into a traditional Tanzanian feast, and see recipes here.
Check out: This account of a special afternoon in Tanzania, by one of our expedition leaders.
Go: Now is a great time to book a journey to Tanzania.
Join: Smithsonian Journeys is on Facebook. Become a fan today.
What's on your life list? Share below.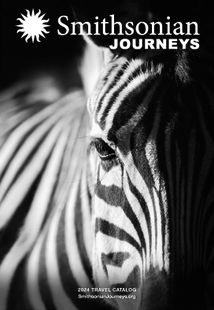 Request a Free Catalog
Download now to find inspiration for your next journey
Get It Free!
Be the First to Know
Sign up to learn more about our tours and special offers
Sign Up