Exploring Bhutan
---
My fascination with Bhutan started right here, in Washington DC, when the Smithsonian's annual Folklife Festival featured a magnificent living exhibition of traditional Bhutanese culture during the summer of 2008. Singers, dancers, craftspeople, skilled archers and many more Bhutanese who embodied the spiritual and cultural legacy of this eastern Himalayan nation enthralled me and a million other visitors to the National Mall over a hot and sticky two-week period.
Several months later, I took off from Kathmandu aboard Bhutan's Druk airlines and rose above snow-covered mountains. I know that Druk's skilled pilots fly this route every day, but still, as I looked out on an endless series of peaks, I nervously wondered where we could possibly land! Less than an hour later, the plane suddenly banked and threaded its way through the peaks and into a narrow valley dotted with whitewashed farmhouses. We landed in Paro – truly a world apart!
My first impressions? Cool, clean air. The smell of wood burning in farmhouses, keeping them warm. Spectacular blue skies, greenest of evergreens, a hushed carpet of pine needles, and the delightful, incessant sound of water cascading over smoothed pebbles – an endless spring run-off from the towering Himalayas.
We were welcomed in perfect English by our guides dressed in gos -- traditional knee-length robes worn by Bhutanese men. First stop – the stunning Uma Paro hotel – the perfect melding of traditional decoration with five-star amenities. After a welcome dance, we sat down to the first of several extraordinary meals. Our afternoon visit to the National Museum featured amazing thangkas, painted or embroidered Buddhist banners which were hung in a monastery or a family altar and occasionally carried by monks in ceremonial processions. The museum's collection included centuries of such detailed, symbolic, brightly colored works. We visited with the museum director, who is also a Buddhist monk and a highly respected scholar. The topic? How to maintain Bhutan's traditional values now that TV and the Internet have become part of the culture.
During a school visit we quickly learned why virtually everyone we met spoke English – it is taught from the start. What a great treat to sit down among seven-year-olds and read right along with them! Our visit to the weekend market offered even more opportunities to meet local people and gain some insight into the rhythm of their lives as we strolled among pyramids of gorgeous produce and watched it being weighed using hand-held scales. Then we witnessed firsthand why the Bhutanese are such superb archers. Wherever we traveled, we saw young men out in stony fields, practicing their technique.
Everyone in our group connected personally with Bhutan. Some like me were struck particularly by its natural beauty, its stunning architecture, and the ease with which we could interact with the people. Others found their challenging hike to the iconic Tiger's Nest , a monastery built on the side of a sheer cliff, to be their most compelling experience. And for still others, the opportunity to visit with a farm family and taste fresh-made yak butter tea provided an instant and richly satisfying cross-cultural experience.
We left the country way too soon – once again flying straight upwards and out of Paro's green valley and across the Himalayas, but we took with us wonderful memories and fervent vows to return!
To safeguard its rich culture based on Buddhist spiritual principles and its natural environment, Bhutan's government (a monarchy whose former king, Jigme Singye Wangchuck, famously proclaimed "Gross National Happiness" as a national goal), has deliberately limited tourism and development. In 2008, only 21,000 tourists entered Bhutan, and that number is not expected to grow significantly in the near future.
Fortunately, Smithsonian travelers will have the opportunity to visit Bhutan in 2010 on special tours led by Preston Scott, curator of the Bhutan Project at the 2008 Smithsonian Folklife Festival. Preston's extraordinary contacts throughout the country will make this trip as personal, insightful and memorable as was my trip this year.
Click here for more information on travel to Bhutan and here for travel to Asia.
What country fascinates you? Share below.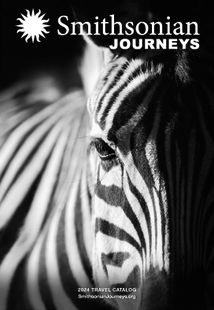 Request a Free Catalog
Download now to find inspiration for your next journey
Get It Free!
Be the First to Know
Sign up to learn more about our tours and special offers
Sign Up