Q&A: Backstage with Joe Rosenberg
---
Here, program manager Cheryl Lytle asked Study Leader Joe Rosenberg for some insight on his long career in historic preservation.
Cheryl Lytle: Your degree is in medical biochemistry. How did you become interested in saving historic buildings in New York City?
Joe Rosenberg:For as long as I can remember, I have been interested in ornate motion picture palaces, but it was not until I moved to New York that I became interested in architectural preservation and theater. When it was announced that Radio City Music Hall was scheduled for demolition, I formed a "Showpeople's Committee to Save Radio City." After the Music Hall was saved, I was asked to help with the landmark designation of the threatened New Amsterdam Theatre (one of the most beautiful theaters in the world, now beautifully renovated by Disney and home to Mary Poppins). After the landmark designation of the New Amsterdam, I started—in conjunction with Actor's Equity—an organization called Save The Theatres, which tried unsuccessfully to save several other historic theaters from demolition. However, eventually we were able to get 35 remaining Broadway theaters designated as landmarks. As time went on, I was asked to consult with preservation organizations in San Francisco, Los Angeles, and the UK—mostly to save old theaters, but occasionally for designating historic districts.
CL: What do you consider your greatest success story in your long career of saving historic theaters?
JR: Because I pass them every day of my life, I am most proud of being a part of saving Radio City Music Hall, the New Amsterdam, and 35 of the 40 operating Broadway Theaters.
CL: You now dedicate your time to leading architecture and theater tours in New York City. Are you still saving endangered buildings in your spare time?
JR: Unfortunately I don't have the spare time to become actively involved in saving endangered buildings. However, I have remained very active with the League of Historic American Theatres and once a year, I help organize a conference which brings together executive directors of historic theaters from across the U.S. and Canada.
CL: What are the first steps you take to rescue a theater? Who do you call first?
JR: Becoming a member of the League of Historic American Theatres and meeting people who have already gone through the saving/restoration process is the best way to get started. Before saving a building, theater or non-theater, it is important to make sure there will be a use for the building after it is saved. Saving a building from demolition is sometimes the easiest part—finding a financially successful way of using the building is often harder. The hardest thing to do is come to the conclusion that there will be no future for a building if it is saved—and then letting go of it.
CL: We are seeing many historic theaters on our Smithsonian Backstage on Broadway tour. Which do you consider the most significant?
JR: We will be visiting the legendary Apollo Theatre in Harlem, which was one of the best known theaters in the world. We'll also be visiting the New Amsterdam Theatre which is the most beautiful Art Nouveau theater ever built. During the New York Theatre Tour, we will be seeing three hit Broadway musicals, each of which will probably be in one of the 35 theaters which were designated as a result of our organization Save The Theatres.
Click here to learn more about our Backstage on Broadway journey in November, featuring Tony Award-winning musicals Next to Normal and Billy Elliot.
Which Broadway musical would most like to get a behind-the-scenes look at? Share with us below.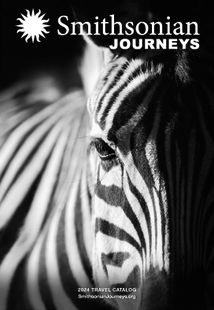 Request a Free Catalog
Download now to find inspiration for your next journey
Get It Free!
Be the First to Know
Sign up to learn more about our tours and special offers
Sign Up