SI Research Notes: The Wright Flyer
---
The centerpiece of the Smithsonian Institution's National Air and Space Museum (NASM) is the 1903 Wright Flyer. But its journey to Washington, D.C. from Kitty Hawk, NC was long and complicated.
The 1903 Wright Flyer began to acquire the status of a national treasure in the 1920s as a feud developed between Orville Wright and the Smithsonian. The dispute centered on the Institution's public display of the aeronautical achievements of its former Secretary, Samuel Langley, and its reluctance to credit the Wright brothers as the true inventors of the airplane. Langley had tested his aircraft, the Aerodrome, in October 1903 and again two months later. Both times it failed to achieve sustained controlled powered flight.
In 1925, Orville tried to shame the Smithsonian into correcting its stance. He announced that he would lend the Flyer to the Science Museum in London. But the Institution refused to retract its claims about Langley, so Orville prepared to send the Flyer to England. It arrived at the Science Museum in London in 1928.
Finally in 1942, the Smithsonian published a retraction of its views on the Langley matter. In 1943, Orville made plans to have the Flyer returned to the United States and transferred to the Smithsonian. In January 1948, Orville died suddenly at the age of 76, leaving it to the executors of his estate to bring the Flyer home. It was installed at the Smithsonian on December 17, 1948—45 years to the day after its history-making flights.
In 1984, NASM began restoration of the Flyer. During the process, museum staff learned many things about the famous aircraft. When the fabric covering was removed, some interesting markings were revealed. Inside one of the wingtips was stamped the name "Browns." It was discovered that S. N. Brown Co. was a carriage company in Dayton, Ohio, and that the wingtips were made from bowed pieces of wood that formed the folding roof of a carriage.
Since 2003, the Flyer has been displayed in a gallery all its own, along with the most extensive presentation on the Wright brothers the Museum has ever offered.
Click here for an online exhibition of the Wright Flyer.
Check out the Wright Flyer at the Air and Space Musuem during our Celebrate Smithsonian tour in Washington, D.C.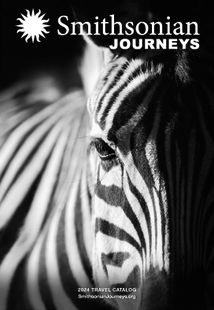 Request a Free Catalog
Download now to find inspiration for your next journey
Get It Free!
Be the First to Know
Sign up to learn more about our tours and special offers
Sign Up