The Spiritual Ganges River
---
I never expected that a river in India would remind me of a traditional Anglo-American folk song. But while floating in a small boat at sunrise in Varanasi on the Ganges River, or "Mother Ganga" as it is affectionately called, the old folk standard made famous in recent years by Alison Krauss, "Down in the River to Pray," came into my mind as I watched people along the shoreline praying, doing yoga, and saluting the sun in the ritual of Surya Pranam.
Our Smithsonian group had arrived in Varanasi the evening before, just in time to take a rickshaw ride down to the river for a starlit wooden riverboat trip to observe the various activities happening along the ghats (stairs leading to the river). We witnessed the Hindu aarti ritual to ward off evil, as well as the blazing funeral pyres along the shore further downstream. Watching these rituals up close was an immensely moving experience. I felt connected to all that was happening. I thought of other rivers with mystical significance, such as the Tiber and Jordan rivers, and thought how beautiful it is that there is a universal connection around the world between rivers and spirituality.
I was fascinated to learn that Varanasi, the most sacred city in India, is also one of the oldest continuously inhabited cities in the world. It was originally known as Kasi, "City of Light," because Hindus believe that it is possible to reach the divine there, in the Ganges River. The whole Varanasi culture revolves around the river, the heart and soul of the city and of Hindu belief.
So many incredible sights, colors, sounds, smells, and beautiful cultural discoveries are forever etched into my memory from my Mystical India trip, but the experience of floating on the Mother Ganga stands alone in its mysticism and poignancy.
Click here to see Sadie's photos from India.
Click here to learn more about travel to India.
Have you had a spiritual or mystical experience when traveling? Share below.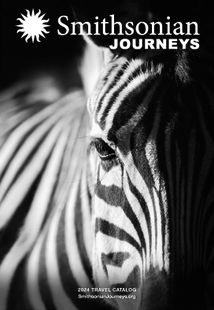 Request a Free Catalog
Download now to find inspiration for your next journey
Get It Free!
Be the First to Know
Sign up to learn more about our tours and special offers
Sign Up