Traveler Words from Turkey
---
Below, a recent traveler talks about her experience in Turkey. To learn more about traveling to Turkey, click here.
"What a beautiful country. Such lush vegetation, so clean, and of course the wonderful turquoise waters. The ancient sights were magnificent. Each day was more beautiful than the day before. I kept thinking this is just a dream and I'm going to wake up back in Saskatchewan. I never realized Turkey had such high mountains and so many forests and so many well contained ancient sites.

Our five-day trip on the gulet was fantastic. Our cabins were very comfortable. We each had our own double bed and private bathroom. The wood throughout was very beautiful. The crew consisted of the captain and two crew members. They were amazing!! They served sumptuous meals and kept the gulet spotless.

We had an outstanding guide named Amet Memis. He was so very knowledgeable and had such a wonderful personality. We were very fortunate to have Amet as our personal link to all ancient and present history. He also had the patience of Job!! We made many friends on this wonderful holiday."

- Smithsonian Traveler on Legendary Turkey and the Turquoise Coast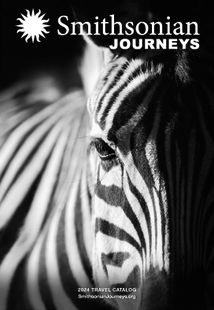 Request a Free Catalog
Download now to find inspiration for your next journey
Get It Free!
Be the First to Know
Sign up to learn more about our tours and special offers
Sign Up