Food For Thought
---
My husband's talents in the kitchen did not even cover making coffee, so before the Hawaiian trip departed, I alerted all my local family and friends that I would be gone, certain that they would take the hint and extend a dinner invitation (or two) in my absence.
The trip was a delightful exploration of the islands of Oahu, Hawaii, Maui, and Kauai. One of the highlights of the trip was a luau at a private home in Hawi on the island of Hawaii. Earl and Audrey Veloria and their son, Kaleo, welcomed us to their home for an afternoon and evening of preparing the luau feast, lei making, singing, dancing, story telling—and eating!
Earl had already dug the imu (underground oven) in which our luau was to cook, and he had lined it with hot rocks. It was our job to help him gather banana leaves and lug them back up the hill to the imu. Audrey brought out the food and placed it on the imu. Earl showed us how to cover it with banana leaves, then shovel dirt over it and sprinkle with water to create the steam that would cook our feast.
While we were waiting for our meal to cook, Earl taught us about coconuts—how to get the milk out of them, how to slit them, how to grate them by hand. Audrey showed us how to make head leis out of the hundreds of flowers we had brought with us. After some brief instruction on Hawaiian drums, two of us accompanied Earl on his ukulele, while Audrey and Kaleo taught us the Hawaiian hula. Then the feast was ready, and we dined on roast pork and chicken, sweet potatoes, taro leaves, poi, fruit salad with freshly grated coconut, and other Hawaiian specialties. It was one of those meals I will always remember.
On returning home, I was determined to create a reasonable facsimile of that Hawaiian feast for my family and friends who had, indeed, fed my husband in my absence. I was able to find a copy of Hawaii Cookbook & Backyard Luau by Elizabeth Ahn Toupin with an introduction by James A. Michener, published twenty years before my trip. It was just what I needed to guide me through the preparation of a "Mainlander's" version of an Hawaiian luau. We dined on roast pork, roast chicken, lomi lomi salmon, sweet potatoes, pineapple salad, and rice, then topped it all off with a macadamia nut pie. It was a huge success, so a tradition was born, and the book became the start of an ever-growing collection of exotic cookbooks.
Future trips would take me to six continents and more than forty countries, and each time a little voice in the back of my head would be planning the menu for the return feast. If I could find the needed cookbook on the journey, so much the better, otherwise there were classics to be found here in the U.S. Florence Lin's Chinese Regional Cookbook published in New York, as well as China Gas Chinese Cookbook published in Hong Kong, guided me through dinner preparations following three different trips to China. The Best Book of Greek Cookery, published and purchased in Greece, and Greek Cooking for the Gods, published and purchased in the U.S., helped me plan and cook a celebratory meal after visiting that wonderful country. The Art of South American Cookery and also Cuisine of The Americas, published in the 1960's, informed the choice of menus for dinners following trips to Ecuador and, more recently, Peru.
And so it goes, each new destination is a learning experience, not only as planned, but also in the planning of a culinary celebration with family and friends upon my return, and welcoming new cuisines and new dishes into the family repertoire.
Do you like to try your hand at cooking different cuisines after a trip? Tell us your story below.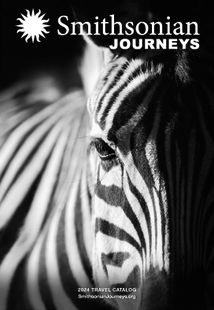 Request a Free Catalog
Download now to find inspiration for your next journey
Get It Free!
Be the First to Know
Sign up to learn more about our tours and special offers
Sign Up