Moved by Music in Vietnam
---
Recently, on a Smithsonian Journeys visit to Vietnam, I was lucky to experience an amazing performance by some local students. When the group of young Vietnamese began to sing, I could not believe my ears. Was this Hanoi, the capital of the nation with which my country had fought a long, long war? The singers were young, mostly teenagers. They welcomed us with glee, and proceeded to sing "God Bless America." I was amazed. When we clapped after each song they smiled, their eyes brilliantly radiating hope and joy.
My mind raced back to an earlier day, when Vietnam was "Nam," and a young woman sang "I do not know why I am so sad tonight—because it rains or my heart is broken." She sang for the many broken-hearted Vietnamese and American women whose love was gone, of sadness etched in the memory of Americans and Vietnamese alike.
But the concert of these Vietnamese youth symbolized a new day—a day of joy. It was in the faces of the young singers in Hanoi, and in teenage girls in beautiful ao dai dresses at the Temple of Literature. And there it was again in faces of the children we saw on our throughout our journey—in Hue we saw it in the peaceful countenance of young Buddhist monks. In Nha Trang, while visiting a preschool, we danced with little children who smiled with delight. In My Tho, young people weaved baskets and helped make coconut candy for our pleasure, and in Saigon they helped the shopkeepers who sold us bright apparel at phenomenal discounts.
The singers in Hanoi were blind. They stood in a row and followed the tunes of a piano player who was also blind. Some of those tunes were of Christmas, as it was that time of the year, and I wondered—in what sense is this a Communist country? Then, after a thoroughly enjoyable performance, they climaxed with "Battle Hymn of the Republic." Tears came to my eyes then, and again a week later when I left Vietnam with the words of that song still ringing in my ears—"mine have seen the glory of the coming of the Lord."
Experience the evolution of postwar Vietnam on any of our tours to the region.
Or, see Vietnam through Hank's eyes, traveling with him in October 2009.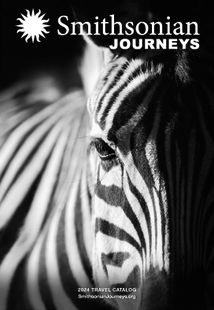 Request a Free Catalog
Download now to find inspiration for your next journey
Get It Free!
Be the First to Know
Sign up to learn more about our tours and special offers
Sign Up