Smithsonian Spotlight: Asian Pacific Heritage Month
---
The first Japanese immigrants arrived in the United States on May 7, 1843. The transcontinental railroad, whose completion would have been impossible without the hard work and sacrifice of many Chinese laborers, was finished on May 10, 1869. These important anniversaries led President Jimmy Carter to designate the first Asian Pacific Heritage Week in 1978. In 1990, Congress voted to designate the entire month of May as Asian Pacific Heritage Month.
Of course, we're celebrating at Smithsonian. For a complete list of events here in Washington, click
here
. For a listing of events across the country, click
here
.
Meanwhile, if you're near D.C. anytime soon, make sure to visit Smithsonian's Freer and Sackler gallieries, which are dedicated to Asian art.
Or, you can always see for yourself, on our tours to Japan, China, Vietnam, and all across Asia.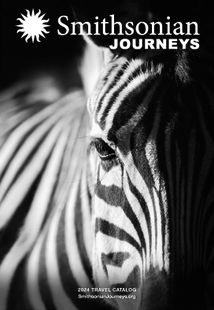 Request a Free Catalog
Download now to find inspiration for your next journey
Get It Free!
Be the First to Know
Sign up to learn more about our tours and special offers
Sign Up