Photo: Lively Bhutan
---
The isolated mountain nation of Bhutan can be as bustling and colorful as any big city when it comes to street markets. In a country where Gross National Happiness is more important than Gross National Product, Bhutan's friendly inhabitants offered a warm welcome for Smithsonian travelers. On our recently returned Extraordinary Cultures by Private Jet trip, Journeys travelers enjoyed Bhutan's warm hospitality, where the remembrance of the highly successful collaboration during the 2008 Folklife Festival created many special opportunities. Click to read more about this special visit.
Interested in discovering Bhutan for yourself? Join us on Lands of the Great Buddha for a once-in-a-lifetime private jet journey.
See all of Amy's photos from Extraordinary Cultures on Flickr.
Click here to learn more about our new active adventure to Bhutan.
Did you make it to last year's Smithsonian Folklife Festival featuring Bhutan? Tell us about your experience.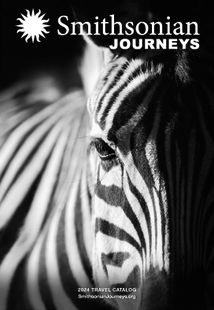 Request a Free Catalog
Download now to find inspiration for your next journey
Get It Free!
Be the First to Know
Sign up to learn more about our tours and special offers
Sign Up