Dining with the Gods
---
Wherever I traveled in Crete, I met people who treasured their culinary heritage. On this magical island, birthplace of Zeus himself, there are still people who take the time to make their own yogurt, cheese, wine, and olive oil. They tend to small orchards, vegetable gardens, and sheep just as their parents and grandparents used to. Hania, in northwestern Crete, is the island's capital city and the place where tourists flock by the thousands each year. Peppered with small, family-run restaurants, Hania offers the very best of Greek and Cretan cuisine and the freshest ingredients.
A chilly March sun interjects its shy rays through the clouds like ancient Greek spears preparing for battle. Families stroll the promenade under the occasional salty sprinkle. Young boys fish at the pier, their laughter clouded by the sea's hum. Old couples sit on benches, recalling the past. Sunday mid-day is leisure time for the Greeks, a time for good company, good conversation, and more importantly, good food.
As my husband and I come across a rather insignificant restaurant we are greeted with a friendly "kalimera" and offered to taste the owner's raki. The fiery liquid is good and very strong. It burns our tongues and slips down our throats, bringing out our appetites. This is the way Greek restaurants lure customers—with a glass of strong raki. We are hungry now, and sit down carefully. These chairs do not inspire too much trust! One minute later Manos, the owner, brings out freshly baked bread and golden-greenish goodness - spiced olive oil. Quietly standing behind her father is Maria, Manos' teen-aged daughter, who is eager to display her waitress talents and practice her English.
We put aside the menus and ask Manos for today's specials, also asking him what ingredients he is using. He proudly tells us that his brother-in-law has a small vineyard just a short drive from here, on the slopes towards Iraklio, and that his white house wine is one of the best on the island. As for the vegetables in his salad, they all come from his garden: huge, ruby tomatoes of irregular shapes, bursting with flavor; long, crunchy green peppers; and dark green, juicy, sweet cucumbers. His wife, Maria, tends the garden, Manos said. She takes good care of it and knows exactly when to pick each vegetable so that it is just right. "Because you know," he says, "she is the chef, and a very good one."
We feast on roasted and marinated red peppers and a few servings of gavros (tiny marinated fish). A huge bowl of Greek salad reigns in the center of the table, its vivid greens and reds showing off the sweet goodness of fresh vegetables. Yellow-green olive oil drizzles were sparkling like rivers of gold. Manos and Maria the daughter keep bringing out countless mezethes tastefully arranged on small, simple plates: a few dolmadakia (stuffed grape leaves) and keftedes (meatballs) are quickly followed by tender, young octopus prepared in red wine.
A pungent rabbit stifado is next, an indication that Manos, like all Cretans, loves to hunt. He usually hunts with his son, and yesterday morning they caught this rabbit, he tells us. Sweet, soft rabbit meat, marinated for 24 hours in a vinegary liquid, is cooked in a chunked-tomato and stewed-onion mixture. Abundant homemade tomato sauce is spiced with bay leaves and cinnamon sticks. An ancient recipe, never altered, never updated - culinary perfection passed on from generation to generation. We continue with lamb and pork on skewers – the traditional souflaki. The soft, juicy, tender meat melts in our mouths in a burst of flavor. I feel a sort of pleasant spiciness and ask Manos what condiments Maria uses to marinate the meat. The answer is simple: local oregano. Up in the mountains, just a few miles from here, is an herb-and-spices heaven. Oregano, rosemary, thyme, every spice imaginable grows there.
It is getting late now, and the aroma of strong, dark, steaming Greek coffee surrounds us. A few locals stop by – they are all Manos' friends. They toss their worry beads and carefully sit on Manos' wobbly chairs, scolding him for not replacing them. Manos and young Maria quickly bring out the mandatory raki and coffee. Even Maria the wife appears from inside the kitchen and greets her husband's old friends.
It is time for the sun to plunge into the blue Aegean Sea and the Cretans are getting ready for the spectacle of that moment: a lamenting, soft bouzouki (similar to a mandolin) starts an ancient sweet tune accompanying the fiery sun's descent into the depths of the endless sea. And all of us, tourists and locals, are whispering an ode to all Gods who helped us discover the true essence of good life.
Are you as hungry as we are after reading this? Check our food and wine tours.
Taste the stifado, souvlaki, and of course, the raki on your own Greek odyssey.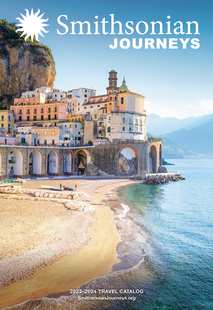 Request a Free Catalog
Download now to find inspiration for your next journey
Get It Free!
Be the First to Know
Sign up to learn more about our tours and special offers
Sign Up