Mad About Munch: Norway's Iconic Art
---
To be able to see the many works of Norwegian painter Edvard Munch up close and in the country where most of his paintings remain to this day was an incredibly rewarding experience for me. I've long admired Munch's artistic expressions. In Scandinavia he is considered one of the greatest visual artists, and his international stature has only grown with time. He's also a far more diverse and complex artist than being merely the creator of The Scream, his immortal distillation of angst. Munch's lifelong Frieze of Life project reveals an intense psychological vision into the emotional lives of himself and of human beings universally. And the beauty and dynamism of his colors and composition rival that of his contemporaries Vincent Van Gogh and Paul Gauguin.
During my visit to Oslo with Smithsonian Journeys, we were able to see the core of Munch's most treasured works. I led excursions to both the National Gallery in downtown Oslo and to the Munch Museum in east Oslo, close to where the artist himself grew up in the 1860s and 1870s. The Munch room in the National Gallery is a mecca for art lovers, containing masterworks such as The Scream, The Dance of Life, Three Girls on the Jetty, The Sick Room, and a variety of other powerful canvases. These works are among the most canonical Symbolist works of the European fin-de-siécle and helped pioneer the Expressionist movement in Germany and elsewhere. And the Munch Museum, which opened in 1963 to commemorate the 100th anniversary of his birth, contains thousands of works that Munch left to the city of Oslo after his death in 1944. Here one can see paintings and prints that reflect the artist's aesthetically- and emotionally-intense work, from his teenage years to his death at age eighty during the World War II in Nazi-occupied Norway. Paintings here include priceless versions of The Scream and Madonna (worth tens of millions of dollars each) that were famously stolen in a daring robbery several years ago and feared lost or destroyed, then miraculously recovered!
I was equally rewarded with visions of Munch during our visit to Bergen on Norway's west coast, where we saw the Rasmus Meyer Collection in the city art museum. Here we viewed remarkable works including Evening on Karl Johan, Jealousy, and Woman in Three Stages, which inspired Henrik Ibsen's final play When We Dead Awaken.
We also were able to see a unique collection of Norwegian art between 1880 and 1920 that reflects the country's landscape of fjords and mountains, its folkloristic culture, and the special qualities of its bluish light in the Nordic North. While the Norwegian Splendor tour allowed us to experience many amazing expressions of Norwegian art and design, including the Vigeland Sculpture Park, the Viking Ship Museum, and the Art Noveau city of Ålesund, Edvard Munch's paintings in Oslo and Bergen remain for me the most outstanding highlight of the tour. Few artists have created such a personal universe of themes, motifs, and styles that expressed their own life experiences and powerful emotions so fully.
Click here to learn more about travel to Norway.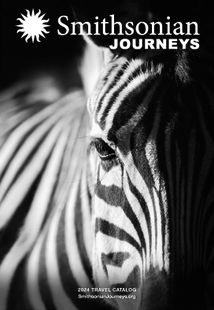 Request a Free Catalog
Download now to find inspiration for your next journey
Get It Free!
Be the First to Know
Sign up to learn more about our tours and special offers
Sign Up