Photo: Remote Antarctica
---
The name Antarctica is the Roman derivative of the Greek word meaning "opposite to the north." During the winter months in Antarctica, there are nearly 24 hours of daylight to explore the White Continent's varied wildlife, including the Adelie penguins pictured above. About 98% of Antarctica is covered by ice, which averages at least one mile in thickness. There are no permanent human residents, but anywhere from 1,000 to 5,000 people reside at the various research stations scattered across the continent throughout the year. Click here to read about the Smithsonian Institution's contributions to polar research, including the Scientific Diving Program and U.S. Antarctic Meteorite Program.
Click here to learn more about travel to Antarctica.
Click here to watch a video footage from previous Antarctica expeditions.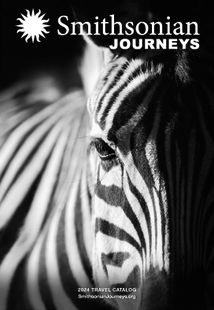 Request a Free Catalog
Download now to find inspiration for your next journey
Get It Free!
Be the First to Know
Sign up to learn more about our tours and special offers
Sign Up