Sailing Glacier Bay, Alaska
---
Superlatives normally abound whenever Glacier Bay is visited. Our expedition was greeted by Mother Nature's finest display of shades of gray with a thin overcast of cloud cover. Even after four days of crystal blue skies and sunshine in the Alexander Archipelago came to an end, the beauty of this place remains nearly beyond description.
Mountain peaks vanishing into the clouds and snow capped Fairweather Range summits in the distance beckoned us onward toward the Margerie and Grand Pacific glaciers at the northernmost end of Tarr Inlet, Glacier Bay's western arm. Glacier Bay National Park Ranger David Sholar was our guide for the day. David brought the experience of over a thousand trips up the Glacier Bay to share with our guests, and his interpretation was invaluable. He was particularly helpful explaining the dynamics of change in this seemingly "frozen" ecosystem.
The Marble Islands brought the sights, sounds, and smells of Steller sea lions and many different bird species, including tufted and horned puffins, glaucous-winged gulls, black-legged kittiwakes, and cormorants. A very observant guest pointed out pairs of gulls strewn across the island and questioned why that was. It is after all "that" time of year. Life abounds, as nature persists.
Steaming further up the bay, we encountered a host of wildlife along the rock-strewn waterfront and steep hillsides. Both black and brown bears were sighted, including two brown bear cubs under the watchful eye of their mom. Numerous mountain goats were spotted in the seemingly most precarious places on the inaccessible cliffs; several had new kids that we surmised were a week or less in age. Bald eagles soared overhead surveying their territories and casting a watchful eye over the entire scene.
Glaciers were why we came, and glaciers we got. First the ice was spotted in the bay, as bergs and bits floated by as a warning of the inevitable. With a display of calving that could be heard and felt, the Margerie glacier demonstrated the ability of the river of ice to change not only the landscape, but also our perspective on our little blue marble as it spins through the universe.
Click here to learn more about our journey to Alaska.
Click here to learn about small-ship expeditions.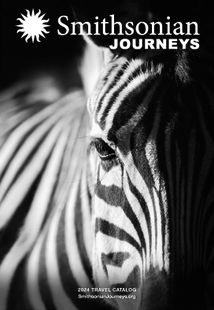 Request a Free Catalog
Download now to find inspiration for your next journey
Get It Free!
Be the First to Know
Sign up to learn more about our tours and special offers
Sign Up