An Interview with a Group Travel Expert
---
MaryBeth Mullen is Deputy Director for Smithsonian Journeys. Here, she interviews Chairman of Academic Travel Abroad Inc. David Parry about why he loves to travel and his favorite destinations.
MaryBeth Mullen: How many group tours have you accompanied?
David Parry: I have been leading the Smithsonian Alpine hiking group each summer for the past 20+ years. But other than that I have left the leadership to our team of talented tour managers; they have the patience and energy one needs!
MBM: What is your favorite destination?
DP: There are too many to have just one. From the 1970's up until 2000 I visited the Soviet Union, now Russia, as well as Eastern Europe, several times a year. Certainly Central Asia, and especially Uzbekistan with its historic caravan cities, is a fond memory. But I also treasure out-of-the way places in Central Europe—most recently Eastern Slovakia and the Baroque towns of Kezmarok and Levoca. And Susan (my wife) and I have always treasured our travels in North America and are currently planning to go back to the shores of Lake Superior where we visited two years ago. The Wind River Mountains of Wyoming aren't bad either! But of course, year after year I end up somewhere in the Alps where there is always just one more mountain or trail.
MBM: What is one key benefit of group travel that you value?
DP: Access. A well designed tour gets one into places that you can't do on your own or takes you to out-of-way parts of the world. The fellowship of the other travelers often adds to the pleasure.
MBM: Where are you going next?
DP: After the Smithsonian hike in the Dolomites (incidentally, some of the most stunning mountain peaks in the world), Susan and I are going to the Apostle Islands on the south shore of Lake Superior followed by the annual meeting of the National Railroad Historical Society, where we will ride steam trains all over the Mesabi Range.
Whether you are interested in hiking, biking, or adventure cruising, we have plenty of active tours with space still available this summer. Click above for more info.
What's your favorite outdoor travel experience? Why do you like to travel with a group? Comment below or click here to share your story.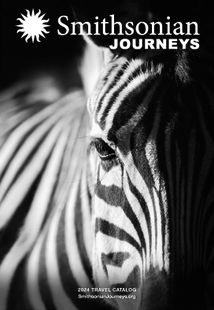 Request a Free Catalog
Download now to find inspiration for your next journey
Get It Free!
Be the First to Know
Sign up to learn more about our tours and special offers
Sign Up