Morocco - Confluence of Cultures: Dispatch 17 from Extraordinary Cultures Tour
---
Morocco is one of those amazing places where the interplay and blending of cultures produces vibrant artistic, religious, and civic traditions. In Marrakech, Berber, Roman, Arab, Jewish, Moorish-Andalusian, and French peoples and traditions have met. The result is stunning.
Historical battles and conflicts produced major dynasties and rulers, and over time, a society quite tolerant of diversity. Berber culture permeates the city—the high snow-covered Atlas Mountains hearkening to their homeland visible on the city's horizon. Berber jewelry, leather work, swords, knives in the old city souq (market) and a variety of Berber tea sellers, artisans, and performers in the city's center attest to that influence.
Arabs brought Islam to the Maghrib—the horizon of the setting sun, or the west, as Morocco is known. The city's medinah (old quarter), its mosques, minarets, and schools all signal this heritage. Though largely a Muslim society, Morocco welcomed Jews with the start of the Inquisition and their expulsion—along with Muslims—from Spain in 1492. Marrakech hosted a thriving Sephardic community—now evident in the old mellah (Jewish quarter), where Judaic motifs can be found in the architecture and varied artifacts of religious life are found in the shops. But Morocco wouldn't be complete without it Roman ruins, mosaics, tile work, Andalusian gardens, decorative styles, and especially musicians, as well as its French language and cooking styles—there exists quite a mix.
Our group tours the city, impressed by its rose gardens, orange trees, and temperate weather—a relief after Timbuktu. We visit the Koubba Ba'Adiyn, a tomb of the Almoravid period rediscovered and excavated in 1948, the landmark Koutoubia minaret which towers over the city, the Ben Youssef madrasa and university, and the beautifully adorned Bahia Palace. The souq beckons us with its colorful goods so fully and beautifully displayed. There is an aesthetic for showing off spices, another for olives, yet another for meats, slippers, carpets, lanterns, plasticware, medicines—everything! We visit the world famous central square, Jemaa el Fna, finding vendors of every description, hat sellers, nut sellers, snake charmers, henna artists—and others too numerous to count. It is again, culture alive, messy and vibrant.
I am happy to have served on the international jury along with Carlos Fuentes, Princess Basma of Jordan, Alpha Konare, main proponent Juan Goytisolo, and others who recommended to UNESCO Jemaa el Fna's inclusion as a masterpiece of humanity's intangible cultural heritage almost a decade ago. That declaration helped stem rather short-sighted civic plans to use the square as a bus parking lot—which would have decimated the cultural creativity daily enacted and inspired in that space.
Marrakesh is both familiar and exotic, comfortable and edgy, an extraordinary place where cultures easily meet. It is thus both a welcoming place to be, and an appropriate last stop before we head home.
This post is seventeenth in a series. To see the other posts, click here.
Click here to learn more about travel to Morocco.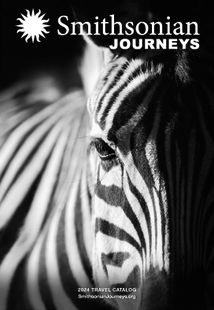 Request a Free Catalog
Download now to find inspiration for your next journey
Get It Free!
Be the First to Know
Sign up to learn more about our tours and special offers
Sign Up