Building a Mall by the Taj Mahal?: Dispatch 14 from Extraordinary Cultures
---
Dateline: Agra, Part II
A few years ago there was another threat to the Taj Mahal, a proposal to build a shopping mall and amusement park along the banks of the river, running from the Taj to another world heritage site, the Red Fort. The whole area would be commercialized with stores, rides, food concessions, even roller coasters. The proposal was backed by powerful politicians and "developers"—though one wonders what that term means in this context.
Such was the subject of the most extraordinary performance on our around the world tour produced by Rajeev Sethi especially for our group.
Rajeev is a world class designer. I first worked with him in the 1980s on the Festival of India. He created and designed Aditi—a marvelous living exhibition celebrating the traditional Indian life cycle at the Smithsonian's National Museum of Natural History. He designed the Mela or Indian fair, for the 1985 Smithsonian Folklife Festival, and then worked with the Smithsonian, Yo-Yo Ma, and Aga Khan's organization on the Silk Road for the 2002 Smithsonian Folklife Festival. Along the way he's designed pavilions for world's fairs, museum exhibitions, hotels, movie sets, numerous programs in support of traditional artisans, and government policies.
Rajeev's production, held at our hotel amidst giant billboards, stage sets, hanging screens and curtains was called Taj Mall—Agra Bazaar Revisited. This was a truly astounding participatory experience. We walked into a multi-phonic bazaar pulsing with 170 performers singing, dancing, playing music, doing magic, acrobatics, and puppetry, juggling, doing impersonations and other Indian street art—not to mention courtesans wooing admirers or wandering mystics wooing adherents. We were visually overloaded with the sights of weavers, kite makers, pigeon flyers, embroiderers, stone workers, gem setters, talisman makers, street doctors, perfume sellers, wrestlers, bone setters, box photographers, bangle makers, shoe makers, faux vegetable vendors, and numerous others. It was as if all of India's traditional arts, from every community, from every quarter of the country had gathered in the space of a tennis court and in concentrated, distilled form, presented the best of their work. Hindu village women danced with oil lamps afire and Muslim devotional singers extolled a sufi saint; even a Catholic girls' choir sang—in both Hindi and English.
Everyone was totally absorbed in the whole scene—our group danced here, sang there, ate and talked, and mixed it up with the artists. Within minutes and then over the course of an hour, we had all formed a participatory community, most appreciative of the arts and culture pulsing through and around us. Then came the finale, and with it the story. Flyers fell upon us from the sky announcing the plans to turn the Taj area into a Mall, with amusement park and standard stores and eateries.
The Taj Mahal would be lost, the bazaar in which we stood would be lost; the arts we so enjoyed shelved for the homogeneity rampant in every shopping mall across the world. Out came a 20 foot-high model of the Taj Mahal, with stilt walkers as minarets. Flashing lights and blaring horns marked the new Taj as it was paraded down our alley-way, and inside was a faux Shah Jahan singing Bollywood hits. The storied Taj was to be profaned, turned from a memorial into a Mall, something built for love and beauty reduced to another commodity for sale.
Minutes later we learned from a fictionalized video news report that the Taj Mall scheme was defeated by protest—our voices among them, and the Taj Mahal would survive. Rajeev's hope of course is that the many artists involved would also survive, that somehow the beauty of traditional culture could find a place in the contemporary world and not be drowned in a tidal wave of globalization.
The evening was a triumph for Rajeev--a friend, teacher, and master artist in his own right. It was also a reunion. Among those enjoying the evening, dancing and singing along was Maura Moynihan who had driven down from Dharmsala where she was working on a project with the Dalai Lama. Maura, incredibly knowledgeable, having grown up in India while her dad was the U.S. Ambassador, had worked with me, Rajeev and the Smithsonian on the Festival of India projects decades ago. Among the artists were several I'd worked with over the years. I also met Gulabo—a young woman dancer. Rajeev and I had first seen her mother, Gulabi, dance in the early 1980s. Gulabi was from the Kalbelia community of semi-nomads; she came in from the deserts of Rajasthan to demonstrate her talent. The best dancer I have ever seen, she participated in the Smithsonian program in Washington in 1985. Gulabi subsequently went onto Bollywood, got interested in women's issues, and became an advocate and spokeswomen for their rights. Now I was meeting her daughter, also using her artistry as an avenue for her aspirations. Others too were the sons and daughters of artists. And among the organizers was Navina Jafa, a dancer and choreographer who had been a post-doctoral Fulbright fellow and my advisee at the Smithsonian.
The evening—with its artistry, story, and connections—was enlivening and intoxicating. Members of our group had never experienced anything like it and wanted to know more and more and more—as such is often the case with India.
This post is fourteenth in a series. To see the other posts, click here.
Click here to learn more about travel to India.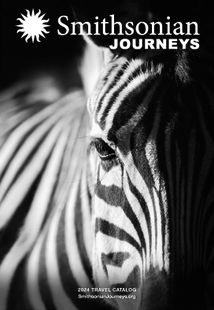 Request a Free Catalog
Download now to find inspiration for your next journey
Get It Free!
Be the First to Know
Sign up to learn more about our tours and special offers
Sign Up