Cruising Through History on the Chesapeake Bay
---
Throughout my life, the Chesapeake has been a source of inspiration and delight that has never waned. Recently, I served as Study Leader on the Cruising the Chesapeake tour. After visiting Baltimore's historic sites, we embarked the delightful small ship American Glory to explore the largest estuarine system in North America—the Chesapeake Bay. 200 miles in length, with 44 rivers feeding into its historic trunk, the bay was our home for the next week.
Our journey continued with stops at several key Virgina sites: Jamestown, the first permanent English colony in America; Yorktown, where American Independence was assured; and Williamsburg, the restored capital of colonial Virginia. Later that evening, we discussed how tobacco and colonial seaport development led to the growth of these cities.
As we departed the Patapsco River for historic Yorktown, Virginia, I pointed out a remarkable site that can be easily overlooked. Fort Carroll, built on an artificial island before the Civil War by an unknown U.S. Army Engineer named Robert E. Lee, is now uninhabited and serves as a bird rookery.
Further north, the Eastern Shore town of Crisfield was literally built on oyster shells, where more than 1,000 oyster "druggers" once tied up. A century ago, this was a rough and tumble place where oysters were gold, men were shanghaied, and the gunfights and hanging judges rivaled even the Old West.
We then made a visit to remote Tangier Island to explore how people have made their living on the bay. In keeping with traditional customs, Tangier is totally dependent upon the bounty of the Chesapeake. The locals speak a colorful dialect some say is a survival of Elizabethan English. The American Glory then made her way back to the Eastern Shore, where we embarked the skipjack Nathan to try our hand at dredging for oysters aboard this nearly extinct bay craft. After touring of the old seaport of Cambridge, we explored Blackwater National Wildlife Refuge to look for eagles, osprey, and herons.
At St. Michaels, once a worldwide shipbuilding center, we enjoyed the Chesapeake Bay Maritime Museum and visited one of the last surviving "screw pile" lighthouses in the world.
For a grand finale to our voyage, we enjoyed a War of 1812 re-enactment, recalling the war that resulted in the first attack on American soil by foreign invaders. St. Michaels was among the many Tidewater ports in Maryland assaulted, and it bears the sobriquet "Town that Fooled the British" for having reportedly diverted enemy bombardment with lanterns planted in the treetops.
I've studied the Chesapeake Bay for half a century, and during this time I have found no place more beautiful or steeped in history. Our voyage was indeed a wonderful journey through time and I look forward to the next Chesapeake adventure.
Click here to learn more about our Chesapeake Bay cruise.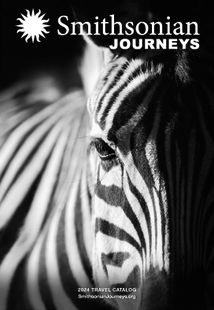 Request a Free Catalog
Download now to find inspiration for your next journey
Get It Free!
Be the First to Know
Sign up to learn more about our tours and special offers
Sign Up