Venice Biennale - City of Art
---
Venice could be defined as an unusual patch of land hung by a divine force between sky and water. No cars can be heard because everything from everyday chores to a funeral procession is done by boat. Tourists and Venetians alike cope and wonder but never fail to acknowledge its magical beauty.
It is here, surrounded by Titian's paintings and in the presence of splendid Renaissance architecture where the 53rd Venice Biennale will take place. The mission of this event has remained the same since 1895: "to promote the most noble activities of the modern spirit without distinction of country."
Why do I feel so compelled to attend this event every time it happens, and why do I find myself drawn back to Venice every chance I get? The answer is simple—because it is the most miraculous and surreal place on earth. Every two years, in the month of June, imagine a blockbuster art exhibition, represented by more than thirty countries and turned by curators, artists, and Italian officials into a unique artistic extravaganza.
During the Biennale, there is art everywhere, not only in the assigned pavilions, but also hanging on and under bridges, when turning the corner on a typically winding alleyway, or simply in front of shops, which tourists ignore and Venetians have long forgotten. The restaurants try to outdo one another and the gondoliers sing louder than ever their favorite arias. Showy or humble artists promote their works and art lovers offer new insights, while the public at large laughs, cries, and marvels at the talent and triumph of the creative spirit.
Two years ago the Turkish, Romanian, and Canadian pavilions were a hit. This year, the anticipation grew stronger when it was signaled that Montenegro, Pakistan, and the United Arab Emirates will show for the first time in the history of this event. In addition, the Vatican proposed to show art works which will make the connection between the Church and contemporary art.
If this were not enough, concerts can be heard everywhere. La Fenice (the newly refurbished opera house) resonates like never before while the Guggenheim, Palazzo Grassi, and Accademia offer old and new masterpieces to be viewed way into the night. In addition, our Smithsonian program includes Palladio's Vicenza and Giotto's Padova, therefore enhancing and making the Venetian experience a memorable one.
During the Biennale, Venice becomes the unforgettable party of the year, when young and old alike remain grateful that once again the "sinking city" has stayed afloat, giving artists the opportunity to be seen and admired.
Click here to learn more about traveling with Mariana Carpinisan.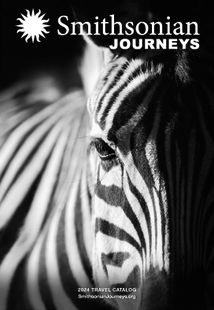 Request a Free Catalog
Download now to find inspiration for your next journey
Get It Free!
Be the First to Know
Sign up to learn more about our tours and special offers
Sign Up