SI Research Notes: Bronze Age Burials of Mongolia
---
Since 2003 physical anthropologist Bruno Frohlich has led a team of international scientists on a National Museum of Natural History (NMNH) Department of Anthropology survey and excavation of Bronze Age burial mounds (3500 to 2700 B.P.) in the steppe environment of Hovsgol Aimag of Mongolia. Of the 2,000 mounds the research team has recorded and surveyed, they have excavated 35, and in summer 2008, the team uncovered seven additional burial mounds.
During the 2003 field season in Mongolia, researchers were also made aware of a newly discovered mass burial within the Buddhist Gandan Monastery in Ulaanbaatar (Hambiin Ovoo). About 1,200 bodies, all of Buddhist monks, had been removed for cremation, which took place under the direction of Lam Purevbat, who kept about 80 skulls and some femora as physical evidence. Apparently most of the victims were executed by the Soviet regime in the years leading up to World War II.
Bruno Frohlich visited the monastery with Naraa Bazarsad of the Institute of Archaeology of the Mongolian Academy of Sciences, and discussed with Lama Purevbat the importance of applying advanced forensic procedures when future exhumations would take place. One estimate suggested that an additional 2,000 to 3,000 bodies might still be buried in the grave.
Frohlich and his team of experts still have a lot of digging to do in Mongolia, but have uncovered a vast amount about Bronze Age burial architecture and the general habits and lifestyles of the pre-historic Mongolian peoples. Each burial mound was found to contain only one individual, extolling a society of equals, but there may have been some class differences. However, no artifacts have been found within the currently excavated mounds, pointing to decomposition or looting. Frohlich's team will also use DNA evaluation, as with the monks' burials, to determine the familial relations of the occupants of the burials found in clusters around the steppes.
Click here for Anthrolog Fall 2008 - this issue of the NMNH's quarterly Anthropology newsletter contains an update on Frohlich and his team's research in Mongolia (pg 2-4).
Click here for AnthroNotes Spring 2006 - this issue of NMNH's publication for educators contains an article on the original findings from the Hambiin Ovoo site, historical context, and some background (pg 1-5).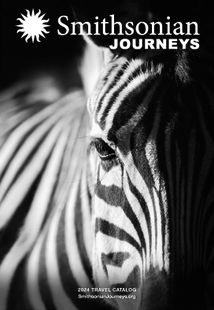 Request a Free Catalog
Download now to find inspiration for your next journey
Get It Free!
Be the First to Know
Sign up to learn more about our tours and special offers
Sign Up