La Pura Vida in Costa Rica
---
Ten years ago, before we had met, my husband purchased a piece of property in southern Costa Rica with the hope of someday building a small resort. Last year, we decided to take the plunge and attempt to make that dream become a reality. We've lived in Costa Rica now for six months, and each day brings new surprises.
Our land is on the top of a mountain which overlooks the Golfo Dulce and the Osa Penninsula, considered one of the most biodiverse areas in the world. I have to admit that my motivation for moving was not so much the desire to become a B&B proprietress, but to raise our son in connection with nature. Here in our jungle, we can spend hours together watching squirrel monkeys jump from tree to tree, examining the multitudes of bugs and butterflies (including the magnificent Blue Morpho), and trying to identify animal tracks in the mud. The day we found jaguar paw prints on the site of our future home is one we won't soon forget!
On weekend excursions to the beach, we take the public taxi boat across the Golfo Dulce to Puerto Jiminez. Dolphins often swim alongside our boat, and we occasionally witness the breach of a whale. We always look forward to encountering two of our favorite creatures there, scarlet macaws and howler monkeys. I remember the first time I saw a macaw in flight because it absolutely took my breath away. I was so accustomed to admiring them in cages that I was completely surprised to see their bright red plumage soaring freely against a lush green background. It was a most beautiful sight! Howler monkeys, on the other hand, are spectacular not for their looks, but for their lungs. Imagine a donkey with pneumonia, and you'll have a rough idea of the howler call that resonates throughout the jungle. Unfortunately for weary travelers, the cacophony usually begins at about four o'clock in the morning.
My newest hobby, bird watching, provides another excuse to spend time in the rainforest. It's hard not to be a bird watcher in Costa Rica, with more than 800 species found in such a small area (about the size of West Virginia). I am now a card carrying member of the San Vito Bird Club, which conducts most of its activities at the Wilson Botanical Garden, one of three field stations operated by the Organization of Tropical Studies (OTS).
Our bird walks along the garden trails feel to me like treasure hunts, as we search for Garden Emeralds, Green-crowned Brilliants, and White-throated Mountain-gem hummingbirds. With each first-time sighting, the excitement level increases as our "life lists" lengthen. Last week, I felt like I hit the jackpot when I caught glimpses of a Red-headed Barbet and a Golden-browed Chlorophonia both in the same morning.
With my limited experience living here, I have just one piece of advice for travelers to Costa Rica: Slow down and stop, look, and listen. I've learned that with patience and persistence, nature reveals itself in spectacular ways. Happy Travels!
Click here to learn more about our tours to Costa Rica.
Click here for book recommendations.
Read Kate's personal blog here.
What's your travel dream? Comments welcome below.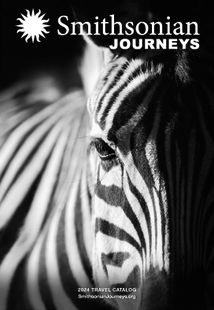 Request a Free Catalog
Download now to find inspiration for your next journey
Get It Free!
Be the First to Know
Sign up to learn more about our tours and special offers
Sign Up