Interview with Ed Bearss
---
Here, Patrick Wagner, Senior Manager for U.S. and Canada tours, sits down with Study Leader Edwin C. Bearss, to talk about Lincoln's time in Washington.
Patrick Wagner: Lincoln was first elected to the House of Representatives in 1846 when he was 39 years old. What was his experience as a freshman congressman in Washington, D.C.?
Ed Bearss: Lincoln spent two sessions in the 30th United States Congress. In the first session, he was accompanied by his wife Mary Todd and his son Robert. En route to Washington, they made a lengthy visit with Mary's family in Lexington, Kentucky, where Lincoln got better acquainted with Mary's father, stepmother, and other Lexington friends. But for his second session of Congress, Mary Todd did not come to Washington. For this trip, Lincoln lived in a modest rooming house with other members of Congress and took his meals at a common table in the establishment.
He came as a Whig and a strong supporter of Henry Clay and his American System. Lincoln's most noted action was in the second session with the introduction of his Spot Resolution. This was done to embarrass the Polk Administration. President Polk spoke of American bloodshed on American soil when he asked for the Declaration of War against Mexico. The declaration died but it marked Lincoln, who was opposed to the war, as a supporter of the Wilmot Proviso, which held that slavery be prohibited on any lands acquired as a result of the war with Mexico.
PW: Lincoln had left his home in Springfield on Feb. 11, 1861 for a 12-day journey east to Washington, where he would begin work as our 16th President. On the way, he made more than 100 speeches. Tell us about the impact of this historic trip.
EB: It was very important because it introduced him to supporters along the way. It showed his accessibility and his ability to speak to people in eloquent yet simply understood ways, a talent that few politicians either then or today appreciate. He presented himself as "a man of the people." As a side note, when Secretary of War Edwin Stanton made the arrangements for returning Lincoln's remains to Illinois after his assassination, Stanton had the train follow the same itinerary as the Lincoln party had when coming to Washington in celebration of his Presidency, except on the return, Lincoln's body would be detoured to travel from Indianapolis to Chicago before returning to Springfield.
PW: Washington, D.C. is full of places Lincoln frequented as Congressman and President. What are some Lincoln sites you find fascinating and why?
EB: One site surely worth noting is the Lincoln Cottage, where he spent many weeks from the mid-summer to the autumn of 1862-64. The cottage was a place where he could relax and be more comfortable before the days of air conditioning. The cottage is located on one of the highest plots of land in the District of Columbia, which was built on a low-lying swamp. He was able to get away from the cares of government, athough he commuted every day to the White House. Certainly anywhere in the core of Washington, from the White House, the War Department, and the blocks near the National Mall all the way to the Capitol, Lincoln would know well.
PW: What were some of Lincoln's other main interests while he was here in Washington?
EB: Lincoln was the only President who had ever held a patent. Patent No. 6469 was for a device to lift boats over shoals, an invention which was never manufactured. He was very interested in the latest technologies. For instance, he test-fired the Spencer Carbine Rifle in front of the White House, which was later adopted by the United States Navy for use. He was also a frequent visitor at the Washington Navy Yard where he discussed naval ordinance with the Commandant John Dahlgren, who developed the Dahlgren cannon. He also followed the work of Professor Lowe (Thaddeus Sobieski Constantine Lowe) and his observation balloons. During the Civil War, Lincoln appointed him Chief Aeronaut of the Union Army Balloon Corps.
PW: In those days, could Washingtonians actually see Lincoln on their daily errands or trips in town?
EB: With security more lax, the President was much more accessible to the public than he is today. And people could actually get in to the White House if they had business. To show how different Washington was then, imagine a senior government official simply walking from the Willard Hotel to the White House today. For instance, when Ulysses Grant showed up in the city to accept his appointment as General in Chief of the Army, the President held a reception for him at the White House. General Grant simply walked unescorted from the Willard Hotel to the White House entrance. Grant was only 5'7" and President Lincoln was 6' 4", and when Grant arrived for the festivities, Lincoln took him by the hand and had him stand on a settee to be introduced to the guests. How times have changed here in Washington!
Click here for Smithsonian Journeys Civil War tours
What other historic figures would you like to learn more about? Comments welcome below.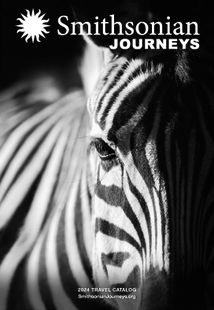 Request a Free Catalog
Download now to find inspiration for your next journey
Get It Free!
Be the First to Know
Sign up to learn more about our tours and special offers
Sign Up